Product Description
Type E SS316 Rubber Hose Fitting Irrigation Quick Releases Fluid Transfer Camlock Coupling
Body material:Stainless steel 316or 340
Handles &pins:Stainless steel  
Gaskets:Buna-N,EPDM,PTFE &food grade silicone gasket
The thread of camlock fittings are BSP,BSPT,NPT,G (ISO 228.1) and R (DIN2999).
SIZE:1/2″to 8″
Working pressure :50-250 Psi( depending on size and temperature)
Manufacture method:precision casting
The use and connection way of cam and groove couplings: Type E camlock can usually be used with D type, C type, DC (Dust Cap)type. To make a connection,simply slide the camlock adapter into the camlock coupling and with normal hand pressure,press the cam levers down.
Feature:
Good corrosion resistance
Convenience, interchangeability   
Easily disconnect/connect without tools
Industry applications:
 Petroleum, mining, municipal, construction, chemicals, agriculture
 Hydraulic fluids, coolant, gasoline and petroleum products, fuel transport, irrigation, water treatment, seawater, wastewater, chemicals transport and storage
   Stainless steel camlock fittings operating pressure
| | |
| --- | --- |
| SIZE | Working Pressure |
| 1/2″ | 150 Psi |
| 3/4″-2″ | 250 Psi |
| 2-1/2″ | 225 Psi |
| 3″ | 200 Psi |
| 4″ | 150 Psi |
| 5″-6″ | 75 Psi |
Our Advantage
We are experienced as we have been in this industry as a manufacturer for more than 10 years. Both of quality and service are highly guaranteed. Absolutely prompt delivery. We can produce according to specific drawings from customers. Welcome OEM/ODM project. Strict control on quality. High efficient and well trained sale service team.  ISO9001, CE and SGS certified.
FAQ
1.Q: Are you a producer or trading company?
A: We are an experienced manufacturer. We own production line and kinds of machines.
 
2. Can you make our specific logo on the part?
Yes please provide me your logo and we will make your logo on the part.
3. Can you manufacture products according to my drawings?
Yes we can manufacturer according to client's drawings if drawings or samples are available. We are experienced enough to make new tools.
4. Q: Can I get some samples?
A: We are honored to offer you our samples. Normally it is for free like 3-5 pcs. It is charged if the samples are more than 5 pcs. Clients bear the freight cost.
5. Q: How many days do you need to finish an order?
A: Normally it takes about 30 days to finish the order. It takes more time around CZPT season, or if the order involves many kinds of different products.  
6. what kind of rubber washer do you apply to camlock couplings?
Normally we use NBR gasket.
contact-info.html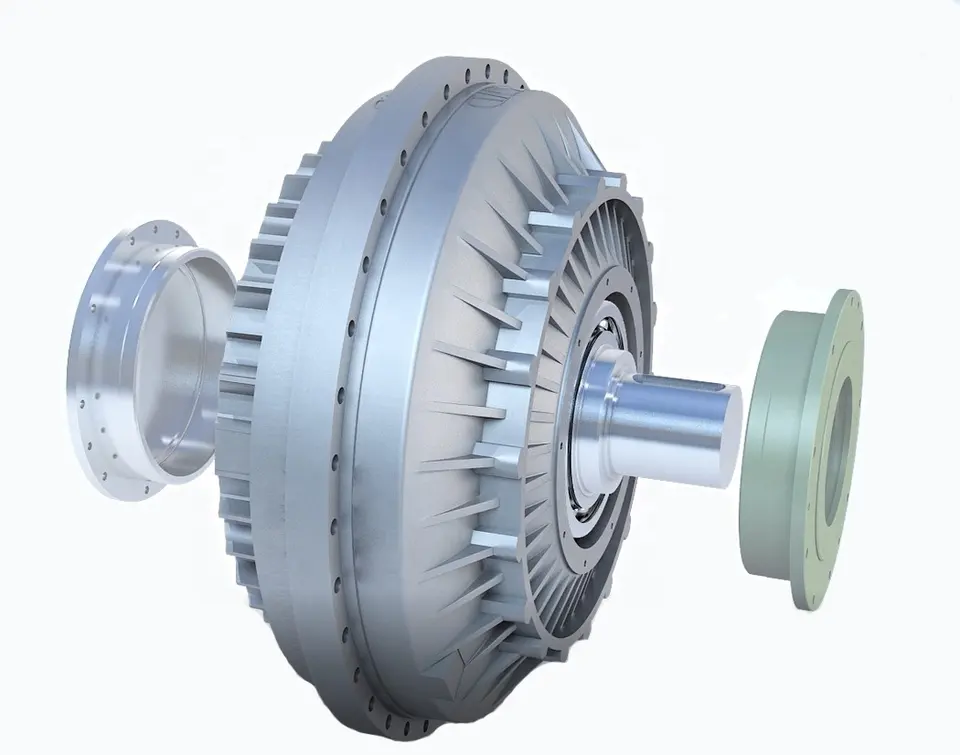 Noise and Vibration Issues with Fluid Couplings
Fluid couplings are generally designed to operate smoothly and quietly, but certain factors may lead to noise or vibration issues in some cases:
Imbalanced Components: If the components of the fluid coupling, such as the impeller and runner, are not balanced properly, it can result in vibrations during operation. Regular maintenance and balancing can help mitigate this issue.
High Operating Speeds: At high speeds, fluid couplings can generate more noise and vibration due to increased fluid turbulence. Using damping techniques or selecting appropriate coupling types can help reduce these effects.
Fluid Level: Incorrect fluid levels in the coupling can lead to inadequate lubrication and cause noise during operation. Regularly checking and maintaining the fluid level can prevent such problems.
Misalignment: Misalignment between the driving and driven shafts can result in increased noise and vibration. Proper alignment during installation is essential to avoid this issue.
Fluid Characteristics: The choice of fluid can also impact noise and vibration levels. Using fluids with appropriate viscosity and lubricating properties can help achieve smoother and quieter operation.
Aging or Contaminated Fluids: Over time, the fluid in the coupling may degrade or become contaminated, leading to increased friction and noise. Regular fluid replacement and maintenance can prevent this problem.
Addressing noise and vibration issues with fluid couplings involves proper installation, regular maintenance, and using high-quality components and fluids. Consulting with manufacturers or experts can help identify and resolve any specific noise or vibration concerns in the power transmission system.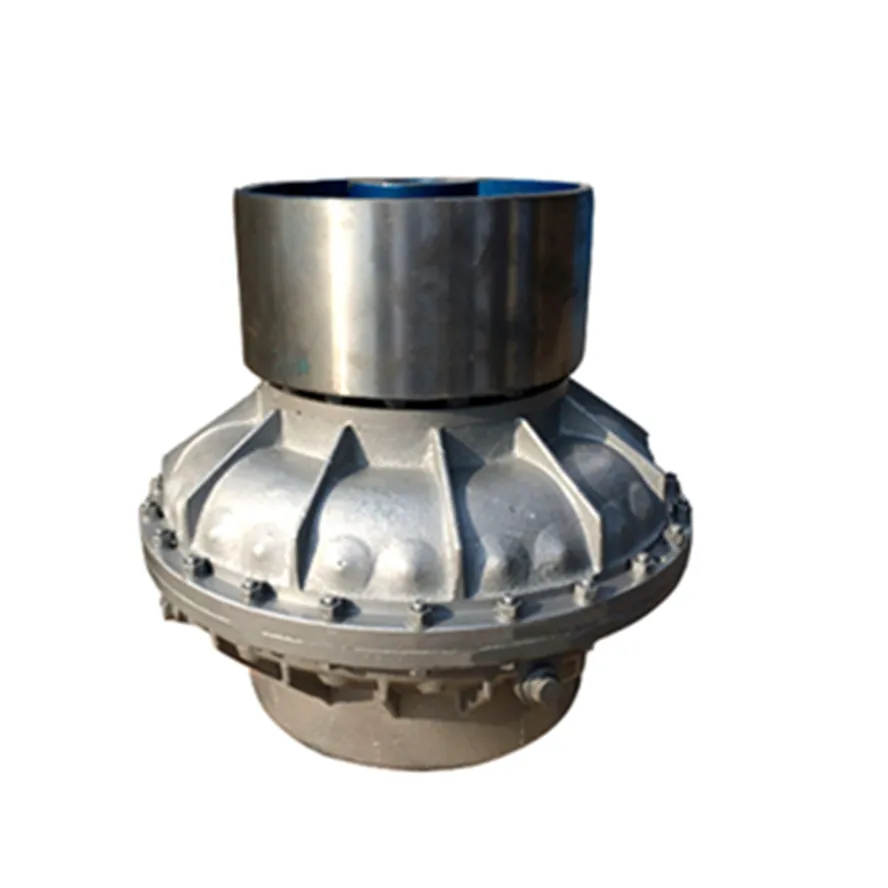 Role of Fluid Coupling in Reducing Mechanical Stress on Connected Equipment
A fluid coupling is a mechanical device used to transmit power between two shafts without direct physical contact. It plays a crucial role in reducing mechanical stress on connected equipment, offering several benefits in various industrial applications. Here's how a fluid coupling achieves this:
Smooth Power Transmission: Fluid couplings use hydraulic principles to transmit torque. When the input shaft (driving shaft) rotates, it imparts motion to the fluid inside the coupling. The fluid transmits torque to the output shaft (driven shaft) through the hydraulic coupling, resulting in smooth and gradual power transmission. This eliminates sudden jerks and mechanical shocks that could otherwise lead to increased stress on connected equipment.
Damping Effect: Fluid couplings act as a damping element, absorbing vibrations and torsional oscillations from the driving shaft. This damping effect helps reduce mechanical stress on connected equipment by mitigating the impact of sudden load changes and torsional vibrations that may occur during start-ups, shut-downs, or varying operating conditions.
Torque Limiting: In high-load situations, a fluid coupling can provide torque limiting capabilities. When the load exceeds a certain threshold, the fluid coupling slips, preventing excessive torque from reaching the driven shaft. This feature acts as a protective mechanism, preventing overloading and mechanical stress on both the coupling and connected equipment.
Shock Absorption: In applications where shock loads or overloads are common, a fluid coupling can absorb and dampen the impact of such events. This ability to cushion shocks prevents abrupt changes in torque and rotational speed, reducing mechanical stress and potential damage to the equipment.
Speed Control: In certain applications, fluid couplings can facilitate speed control of the driven shaft by adjusting the amount of fluid in the coupling. The ability to control the speed of connected equipment without abrupt changes contributes to smoother operation and lower mechanical stress.
By incorporating a fluid coupling into a power transmission system, mechanical stress on connected equipment can be significantly reduced, leading to improved equipment reliability, extended component life, and reduced maintenance costs. Fluid couplings are commonly used in heavy machinery, conveyors, crushers, mining equipment, marine propulsion systems, and various other industrial applications where smooth and controlled power transmission is critical.
It is important to select the appropriate fluid coupling size, type, and features based on the specific application requirements to ensure optimal performance and stress reduction. Regular maintenance and adherence to the manufacturer's guidelines are essential to preserve the benefits of using fluid couplings and maintain their effectiveness in reducing mechanical stress on connected equipment.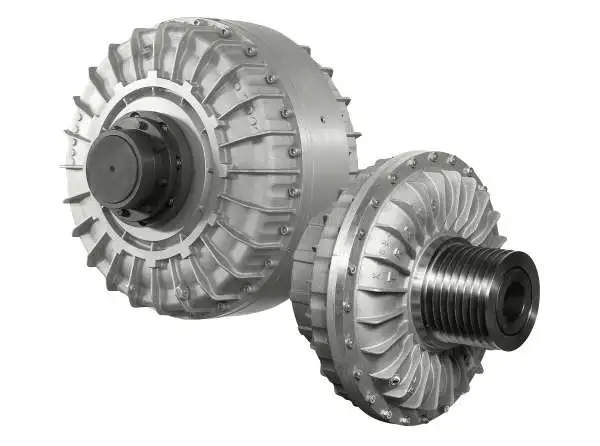 Comparison: Fluid Coupling vs. Torque Converter
Fluid couplings and torque converters are both hydrodynamic devices used in automotive and industrial applications to transmit power between an engine and a driven load. While they share some similarities, they also have distinct differences:
Function: The primary function of both fluid couplings and torque converters is to transmit rotational power from the engine to the transmission or driven load. They allow for smooth power transmission and provide a degree of isolation between the engine and the load.
Construction: Both devices consist of an impeller, a turbine, and a housing filled with hydraulic fluid (usually oil). The impeller is connected to the engine's crankshaft, the turbine to the transmission/input shaft, and the housing is shared between the two.
Torque Transmission: In a fluid coupling, the power is transmitted purely through hydrodynamic principles. The impeller accelerates the fluid, which then drives the turbine. However, there is no torque multiplication, and the output speed is always slightly less than the input speed. On the other hand, a torque converter can provide torque multiplication due to its stator, which redirects the fluid flow and increases the torque transmitted to the turbine.
Lock-up Clutch: Some torque converters have a lock-up clutch that can mechanically connect the impeller and the turbine at higher speeds. This effectively eliminates the slip between the two elements and increases overall efficiency, similar to the operation of a fluid coupling at higher speeds.
Automotive Use: Torque converters are commonly used in automatic transmissions in vehicles, while fluid couplings were more prevalent in older manual transmissions. However, modern manual transmissions generally use clutch systems instead of fluid couplings.
Efficiency: Fluid couplings are generally more efficient than torque converters, especially at higher speeds. Torque converters can experience efficiency losses due to fluid slippage and the operation of the stator.
Applications: Fluid couplings find applications in various industrial machinery, such as conveyors, pumps, and crushers, where the priority is smooth power transmission and overload protection. Torque converters are primarily used in vehicles, offering the benefit of automatic gear shifting and torque multiplication during acceleration.
Overall, both fluid couplings and torque converters play essential roles in power transmission, but their specific design and application characteristics determine their suitability for different use cases.



editor by CX 2023-09-11