Product Description
Type A  brass male adapter Female thread camlock coupling
Brass cam and groove coupler &adapter made according to standard A-A-59326(original standard Mil-C-27487), size from 1/2″ to 6″.Camlock coupling provides a simple and reliable way to connect and disconnect hoses without any tools during installation. Brass camlock connects PVC hose, tubing, etc., It's suitable for using in storage tanks, marine refueling systems, pumps, fuel tanks and other occasions. Brass camlock is a good choice, it has good corrosion resistance and long service life, convenient operation,which can save time, tools and manpower.
Brass camlock fitting type A dimension:                          
Unit:mm
Product Description:
body materials: Brass
handle: Brass
Gaskets:Buna-N (NBR), EPDM
The thread of camlock fittings are BSP,BSPT,NPT,G (ISO 228.1) and R (DIN2999).
SIZE:1/2″to 6″
pressure :75-250 Psi( depending on size and temperature)
Operating temperature :-40 to 145ºC
Manufacture method:Forging and casting
Cam and groove couplings use and connection mode: Type B camlock can usually be used with type A, type E, type F, type DP (Dust Plug) of the same size. To make a connection, simply slide the camlock adapter into the camlock coupling and with normal hand pressure, press the cam levers down.
Brass camlock fittings operating pressure
 
| | |
| --- | --- |
|                   size |              Working Pressure |
| 1/2″ – 2″ | 250 Psi |
| 2-1/2″ | 150 Psi |
| 3″ | 125 psi |
| 4″ | 100 psi |
| 5″ – 6″ | 75 psi |
Our Advantage
We are experienced as we have been in this industry as a manufacturer for more than 10 years. Both of quality and service are highly guaranteed. Absolutely prompt delivery. We can produce according to specific drawings from customers. Welcome OEM/ODM project. Strict control on quality. High efficient and well trained sale service team.  ISO9001, CE and SGS certified.
FAQ
1.Q: Are you a producer or trading company?
A: We are an experienced manufacturer. We own production line and kinds of machines.  
2. Can you make our specific logo on the part?
Yes please provide me your logo and we will make your logo on the part.
3. Can you manufacture products according to my drawings?
Yes we can manufacturer according to client's drawings if drawings or samples are available. We are experienced enough to make new tools.
4. Q: Can I get some samples?
A: We are honored to offer you our samples. Normally it is for free like 3-5 pcs. It is charged if the samples are more than 5 pcs. Clients bear the freight cost.
5. Q: How many days do you need to finish an order?
A: Normally it takes about 30 days to finish the order. It takes more time around CHINAMFG season, or if the order involves many kinds of different products.  
6. what kind of rubber washer do you apply to camlock couplings?
Normally we use NBR gasket.
company-Union-Metal-Products-HangZhou-Co-Ltd-.html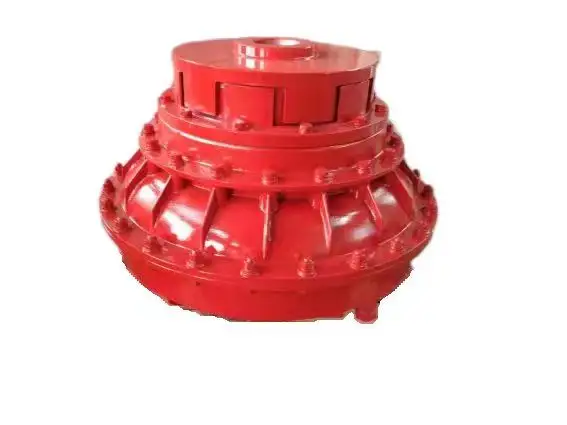 Key Parameters in Designing a Fluid Coupling System
Designing a fluid coupling system requires careful consideration of various parameters to ensure optimal performance and efficiency. Here are the key parameters to take into account:
Power Rating: Determine the power requirements of the connected equipment to select a fluid coupling with an appropriate power rating. Undersized couplings may lead to overheating and premature wear, while oversized couplings can result in energy losses.
Input and Output Speeds: Consider the rotational speeds of the input and output shafts to ensure the fluid coupling can accommodate the desired speed range without slipping or exceeding its limitations.
Torque Capacity: Calculate the maximum torque expected in the system and choose a fluid coupling with a torque capacity that exceeds this value to handle occasional overloads and prevent damage.
Fluid Viscosity: The viscosity of the fluid inside the coupling affects its torque transmission capabilities. Select a fluid viscosity suitable for the application and operating conditions.
Start-Up and Load Conditions: Analyze the start-up torque and load variations during operation. The fluid coupling should be capable of handling these conditions without excessive slip or stress on the drivetrain.
Environmental Factors: Consider the ambient temperature, humidity, and potential exposure to contaminants. Ensure the fluid coupling's materials and sealing mechanisms can withstand the environmental conditions.
Size and Weight: Optimize the size and weight of the fluid coupling to minimize space requirements and facilitate installation and maintenance.
Torsional Resonance: Evaluate torsional resonances in the system and select a fluid coupling with appropriate damping characteristics to mitigate vibrations.
Overload Protection: Determine if overload protection features, such as slip or torque limiting, are necessary to safeguard the connected equipment from damage.
Compatibility: Ensure the fluid coupling is compatible with the specific application, including the type of driven equipment, its mechanical characteristics, and any other interrelated components in the drivetrain.
Operational Costs: Consider the long-term operational costs, maintenance requirements, and efficiency of the fluid coupling to optimize the overall lifecycle cost of the system.
Safety Standards: Adhere to relevant safety standards and regulations in the design and installation of the fluid coupling system to ensure safe and reliable operation.
By carefully evaluating these parameters and selecting a fluid coupling that aligns with the specific requirements of the application, engineers can design a reliable and efficient fluid coupling system for various industrial and power transmission applications.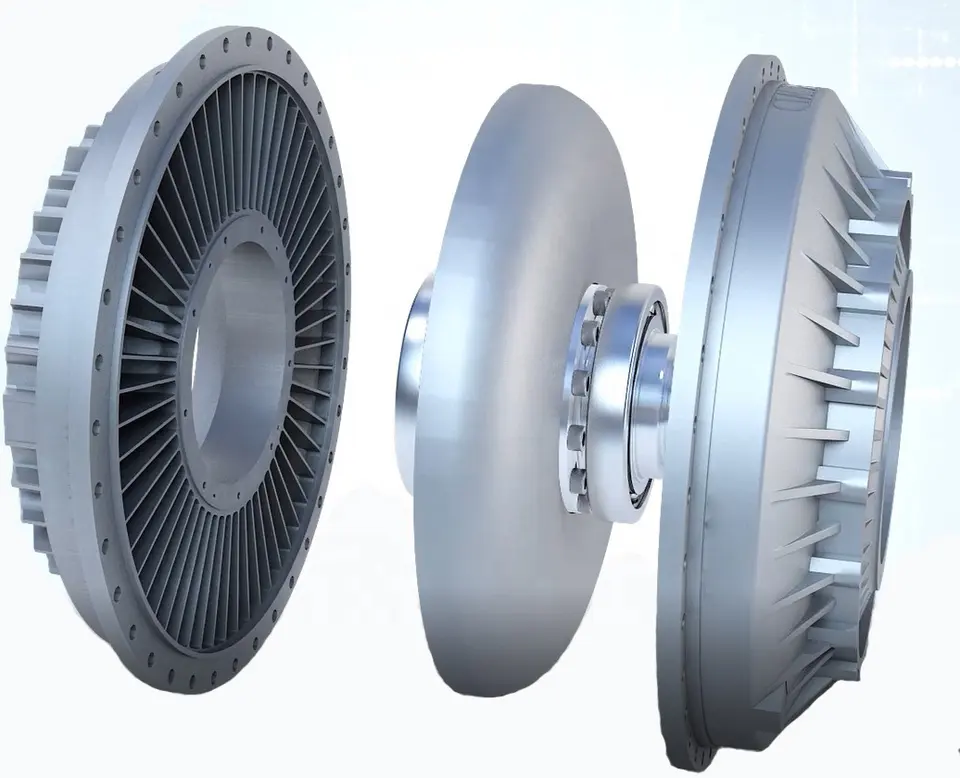 Fluid Couplings for Soft-Start Applications in Conveyor Systems
Yes, fluid couplings are well-suited for soft-start applications in conveyor systems. Soft-starting is the gradual acceleration of the conveyor belt to reduce sudden mechanical stress and current spikes during startup. Fluid couplings provide a smooth and controlled method of power transmission, making them ideal for achieving soft-start capabilities in conveyor systems.
When a conveyor system equipped with a fluid coupling starts, the fluid inside the coupling initially acts as a viscous medium, allowing the input and output shafts to rotate at different speeds. As the fluid coupling fills with fluid, it gradually transmits torque and smoothly accelerates the conveyor belt.
One of the significant advantages of using fluid couplings for soft-start applications is that they provide adjustable startup times. By controlling the amount of fluid inside the coupling, the startup acceleration rate can be precisely tuned to match the specific requirements of the conveyor system.
The soft-start feature offered by fluid couplings helps in several ways:
Mechanical Stress Reduction: The gradual acceleration minimizes mechanical stress on the conveyor belt, pulleys, and other components, leading to extended equipment life and reduced maintenance costs.
Energy Savings: Soft-starting prevents sudden current spikes and reduces the power demand during startup, resulting in energy savings and improved efficiency.
Improved Conveyor Belt Life: By avoiding abrupt starts, the wear and tear on the conveyor belt are reduced, leading to longer belt life and decreased downtime.
Enhanced Conveyor Control: Soft-start capabilities enable better control over the conveyor system, allowing operators to optimize the material flow and prevent product spillage or jamming.
Fluid couplings offer reliable and cost-effective soft-start solutions for conveyor systems across various industries, including mining, manufacturing, and material handling. They are particularly beneficial when dealing with heavy loads or long conveyor belts, where the avoidance of sudden shock loads is critical.
In summary, fluid couplings are a popular choice for soft-start applications in conveyor systems due to their smooth and controlled power transmission, adjustable startup times, and the ability to reduce mechanical stress and energy consumption during startup.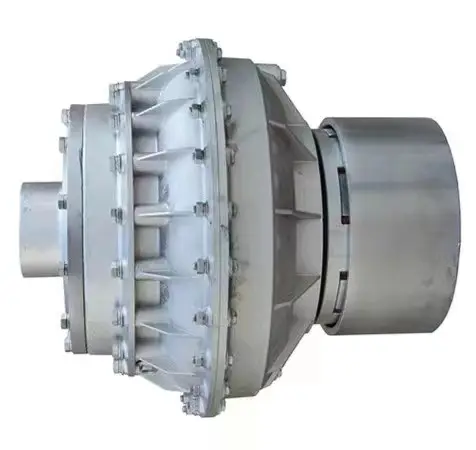 Key Components of a Fluid Coupling and Their Functions
A fluid coupling consists of several essential components that work together to transfer torque and facilitate smooth power transmission. The key components and their functions are as follows:
Impeller: The impeller is the primary input element of the fluid coupling. It is directly connected to the driving shaft and rotates with it. The impeller's function is to churn and circulate the fluid inside the coupling, creating a flow that generates a hydrodynamic torque.
Runner/Turbine: The runner, also known as the turbine, is the output element of the fluid coupling. It is connected to the driven shaft and rotates with it. As the fluid from the impeller flows onto the runner, it causes the runner to rotate and transmit torque to the driven load.
Fluid: The fluid, typically hydraulic oil, is the medium that transmits torque from the impeller to the runner. It fills the space between the impeller and the runner and allows the torque transfer to take place through hydrodynamic action.
Filler Plug: The filler plug is used to add or drain the fluid from the fluid coupling. It allows for the adjustment of fluid levels, which can influence the coupling's performance characteristics.
Seal Ring: The seal ring prevents the fluid from leaking out of the fluid coupling and ensures that the coupling operates with maximum efficiency and minimal losses.
Bearing: The bearing provides support for the input and output shafts, allowing them to rotate smoothly. Bearings are critical for maintaining alignment and reducing friction within the fluid coupling.
These key components work together to create a hydrodynamic torque transfer, enabling the fluid coupling to smoothly transmit power and torque from the driving shaft to the driven shaft without any physical contact between the two shafts.



editor by CX 2023-11-07