Product Description
Product Description

| | | |
| --- | --- | --- |
| 1 | Material | polyethylene, polyethylene/PP |
| 2 | Size | DN20-110MM |
| 3 | Working Pressure | PN10,PN16 |
| 4 | Color | Light Blue,dark blue ,black |
| 5 | Application | Irrigation and water distribution |
Related Products
Advantages
1. Easy installation: light weight
2. Quick connection: perfect sealing performance.
3. PP material is recycled and environment-friendly
4. Low flow resistance: smooth interior walls and low friction
5. High corrosion resistant: resist chemical matters and electron chemical corrosion
6. Non-toxic: no heavy metal additives, covered with dirt or contaminated by bacterium
7. Widely used : Farming irrigation, Water supply, Greenhouse, Industry, Golf courses, Swimming pools, Cable conduits,etc

Company Profile
High Mountain Pipe is dedicated to the manufacturing and sales of various kinds of plastic pipes, fittings, valves, related plumbing equipments, etc. And we can provide professional solution method for complete pipe system. The production and sales volume of leading products of PE water supply pipes and HDPE drainage pipes ranks among the highest in the industry.
The company covers an area of about 200,000 square CHINAMFG and has 6 workshops, 30 production lines, 300 workers, and 200,000 tons annual ability. It is a comprehensive enterprise integrating science, industry and trade. The industries involved are: research, production, development, manufacturing, and polymer materials of plastic pipes. All products meet the requirements of national inspection standards or enterprise inspection standards.  Application
The company's products are widely used in the construction of civilized ecological village, factory and mine construction,
small town construction, municipal engineering, urban-rural integration construction, new town construction and other fields.
Certifications
FAQ
Q1: May I get 1 sample before placing order?
Re: Yes, Sample are available. For normal products, samples are for free and you just need to bear the freight; For those high value products, you just need to freight and certain product cost. When we both cooperate for some times or when you are our VIP customer, free sample will be offered when you need.
Q2: Which payment is available for your company?
Re: T/T, L/C or Ali trade insurance. You can choose the 1 which is convenient for you.
Q3: How and when can I get my goods after payment?
Re: For small quantity products, they will be delivered to you by international courier(DHL, FedEx, TNT etc.) or by air. Usually it will cost 3-5days that you can get the goods after delivery. For large quantity products,shipping by see is worthwhile.It will cost days to weeks to come to your destination port, which depends on where the port is.
Q4: Is there any possible to use my appointed label or package?
Re: Yes. If needed, we'd like to use label or package according to your requirement.
Q5: How can you guarantee the goods you offer is qualified?
Re: We always believe honesty and responsibility are basis of 1 company, so whatever products we provide for you all are qualified. We will have goods tested and provide COA before delivery for sure.
Q6:Is the price on this page correct?
Re: The listed price is only for reference, for latest price, pls contact us directly.
Main products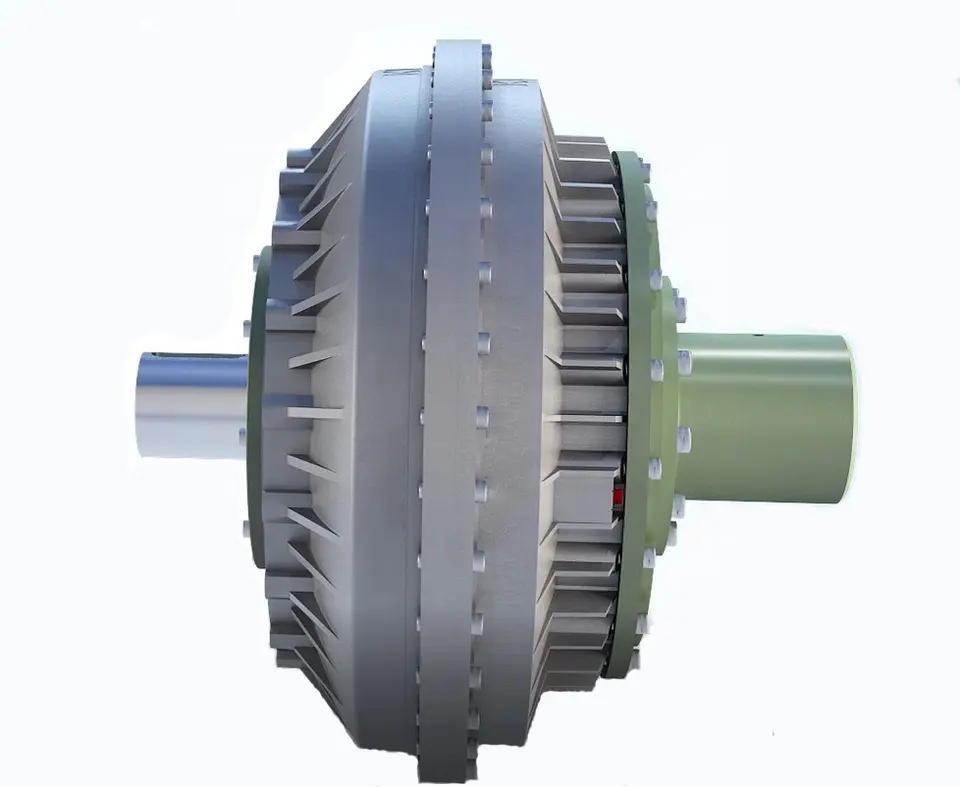 Role of Fluid Couplings in Heavy-Duty Mining Equipment
Fluid couplings play a critical role in heavy-duty mining equipment, offering several advantages that enhance the performance, safety, and longevity of the machinery:
Soft Start: In mining applications, where large equipment like crushers, conveyors, and draglines are involved, fluid couplings provide a soft start to the motor, gradually ramping up the torque and reducing the shock and stress on the drivetrain. This ensures smoother equipment startup and prevents sudden power demand spikes.
Torque Limiting: Fluid couplings act as torque limiters, protecting the equipment from sudden overloads and torque surges during operations. This feature prevents damage to the motor, gearbox, and driven components, thus increasing the reliability and lifespan of the equipment.
Load Distribution: In mining equipment with multiple driven components or motors, fluid couplings enable efficient load distribution among the components. This ensures that each component shares the load appropriately, preventing uneven wear and improving overall system efficiency.
Overload Protection: The inherent slip feature of fluid couplings allows them to slip at high loads, providing overload protection to the equipment. In case of unexpected jams or blockages in conveyor belts or crushers, the fluid coupling can slip, preventing costly damage to the equipment.
Vibration Damping: Mining operations can generate significant vibrations that can be damaging to the equipment. Fluid couplings help dampen vibrations, reducing stress on the components and minimizing wear and tear.
Reduced Maintenance: By preventing sudden torque surges and overloads, fluid couplings reduce the need for frequent maintenance and repairs, saving both time and money for mining operators.
Heavy-duty mining equipment operates in harsh and challenging environments with high loads and abrasive materials. Fluid couplings used in mining applications are designed to be robust, durable, and resistant to contaminants like dust and water.
Overall, fluid couplings play a vital role in ensuring the efficient and reliable operation of heavy-duty mining equipment, contributing to increased productivity and reduced downtime in mining operations.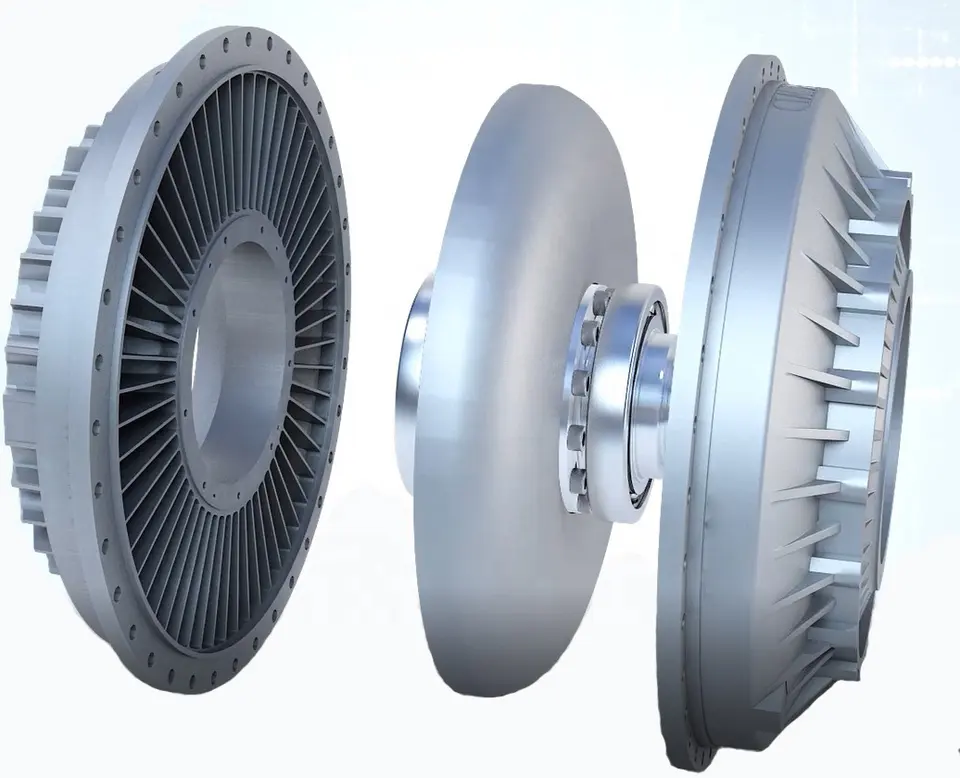 Fluid Couplings for Soft-Start Applications in Conveyor Systems
Yes, fluid couplings are well-suited for soft-start applications in conveyor systems. Soft-starting is the gradual acceleration of the conveyor belt to reduce sudden mechanical stress and current spikes during startup. Fluid couplings provide a smooth and controlled method of power transmission, making them ideal for achieving soft-start capabilities in conveyor systems.
When a conveyor system equipped with a fluid coupling starts, the fluid inside the coupling initially acts as a viscous medium, allowing the input and output shafts to rotate at different speeds. As the fluid coupling fills with fluid, it gradually transmits torque and smoothly accelerates the conveyor belt.
One of the significant advantages of using fluid couplings for soft-start applications is that they provide adjustable startup times. By controlling the amount of fluid inside the coupling, the startup acceleration rate can be precisely tuned to match the specific requirements of the conveyor system.
The soft-start feature offered by fluid couplings helps in several ways:
Mechanical Stress Reduction: The gradual acceleration minimizes mechanical stress on the conveyor belt, pulleys, and other components, leading to extended equipment life and reduced maintenance costs.
Energy Savings: Soft-starting prevents sudden current spikes and reduces the power demand during startup, resulting in energy savings and improved efficiency.
Improved Conveyor Belt Life: By avoiding abrupt starts, the wear and tear on the conveyor belt are reduced, leading to longer belt life and decreased downtime.
Enhanced Conveyor Control: Soft-start capabilities enable better control over the conveyor system, allowing operators to optimize the material flow and prevent product spillage or jamming.
Fluid couplings offer reliable and cost-effective soft-start solutions for conveyor systems across various industries, including mining, manufacturing, and material handling. They are particularly beneficial when dealing with heavy loads or long conveyor belts, where the avoidance of sudden shock loads is critical.
In summary, fluid couplings are a popular choice for soft-start applications in conveyor systems due to their smooth and controlled power transmission, adjustable startup times, and the ability to reduce mechanical stress and energy consumption during startup.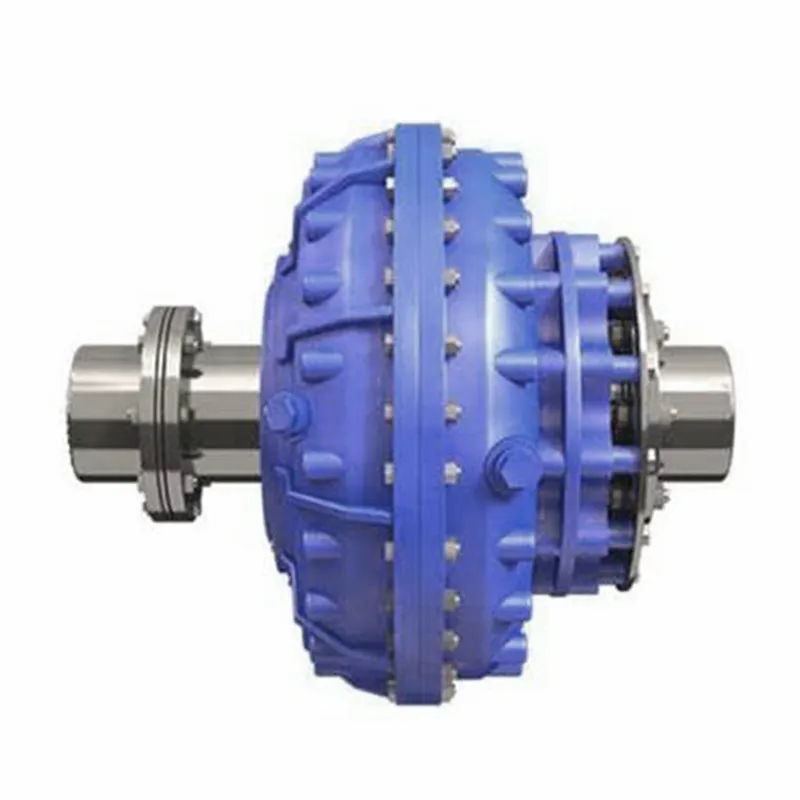 Examples of Industries Using Fluid Couplings
Fluid couplings find applications in various industries where smooth power transmission and torque control are required. Some common industries that commonly use fluid couplings include:
Mining: Fluid couplings are used in mining equipment such as conveyors, crushers, and excavators to provide controlled startup and overload protection.
Construction: Construction machinery like cranes, loaders, and piling rigs use fluid couplings for efficient power transmission and reduced shock loads.
Marine: Fluid couplings are employed in marine propulsion systems to optimize engine performance and protect against sudden load changes.
Steel and Metal Processing: Industries dealing with metal processing use fluid couplings in rolling mills, coilers, and metal forming machines for soft start and overload protection.
Pulp and Paper: Pulp and paper mills utilize fluid couplings in various equipment, such as chippers, conveyors, and pumps, for smooth power transmission.
Automotive: In automotive applications, fluid couplings can be found in torque converters, which provide smooth torque transmission in automatic transmissions.
Energy and Power Generation: Fluid couplings are used in power plants for applications like fans, pumps, and turbines to control power transmission and reduce mechanical stress during startup.
Wastewater Treatment: Fluid couplings are used in wastewater treatment plants for applications like aerators and pumps, ensuring efficient power transmission and equipment protection.
Food and Beverage: Industries dealing with food processing and beverage production use fluid couplings in various applications to ensure gentle power transmission and prevent sudden load shocks.
Chemical and Petrochemical: Fluid couplings are used in pumps and mixers in chemical and petrochemical processing to control torque and protect equipment.
These examples illustrate the versatility of fluid couplings and their widespread use across diverse industries to enhance the efficiency and safety of power transmission systems.



editor by CX 2023-10-17