Product Description
Product Description
| | |
| --- | --- |
| System Advantages: | Product Advantages: |
| -Better Performance  | -Sleek internal surface |
| -Higher Sustainability  | -Low pressure loss for the arc bending |
| -More Efficient  | -Full bore design pipe fitting |
| -More Flexible Access  | -Safe connection with bulge loop and staple bolt |
| -Better Energy Efficiency    | -Spatial active sealing technology |
|   | -Gooseneck type quick connection mode |
Equal Pipe to Pipe Connector
1. Complete Reliability
Removable and reusable components, perfect for your factory environment
Fast installation of shunt device and branch pipeline, convenient adjustment of production line
Rich interfaces and accessories, suitable for any system
All components are nonflammable
2. Better Corrosion Resistance than 304 Stainless Steel
Anti-corrosion Internal Surface Treatment of Aluminum Alloy Pipe
Alkali and acid corrosion resistance
Internal surface always clean, no pressure loss of the pipe network system
3. Easy Operation
Pipelines and connectors can be installed immediately without additional treatment — no pre construction preparation is required
Fast assembly, no welding, gluing or stranding required – time saving
Easy assembley- no need for training
Light weight, easy for cutting pipes — easier to work on site
Directly use — the system can be tested and used immediately
4. Energy Saving
Consistently high quality interior surfaces – clean air
Low friction of inner surface — high flow performance
Precise pipe diameter – optimized sealing
Automatic filling type large contact surface sealing system ,no leakage
5. Excellent Resistance against the Following Environments
Corrosion
Mechanical vibration
Thermal variations
U.V
Compressor oil
6. Durable, Beauty
Electrostatic spraying when leaving the factory
Standard color, beautiful appearance
Product Parameters
Equal Pipe to Pipe Connector
| | | | |
| --- | --- | --- | --- |
| Product model | Nominal diameter mm | W mm | Hmm |
| 11 571030 | DN20 | 48 | 52 |
| 22 571030 | DN25 | 53 | 52 |
| | | | |
| --- | --- | --- | --- |
| | DN40 | 80 | 75 |
| 55 5710 30 | DN50 | 90 | 75 |
| 66 5710 30 | DN65 | 122 | 106 |
| 77 5710 30 | DN80 | 142 | 106 |
| 88 5710 30 | DN100 | 158 | 106 |
| 99 5710 30 | DN125 | 180 | 106 |
| CC 5710 30 | DN148 | 224 | 130 |
| BB 5710 30 | DN200 | 280 | 130 |
Product Category & Application
Upipe dedicates to the sustainable, efficient and energy efficiency fluid transportation system
Company Profile
HangZhou JIEU FLUID TECHNOLOGYCO., LTD. is a manufacturing company specialized in aluminum pipe, pipe fitting and industrial aluminum profile, which integrated in R&D, production, sales and installation. The group locates at economic and technological development zone of HangZhou, ZheJiang , with a floor space of 200 mu and total investment of 180 million yuan. With 5 aluminum alloy tube extrusion production lines, 3 deep processing production line for finished products, and 2 production lines for industrial aluminum profile, the annual production capacity can be 3,000 tons of aluminum alloy pipe and 8,000 tons of industrial aluminum profile. It has become the large-scale aluminum alloy manufacturer with first-class technical equipment as it has the state-of-the-art production and inspection equipment, including mold center, inspection center, R&D and other equipment imported from Germany, South Korea and Japan.
The company engages in the innovation and deep processing of non-ferrous materials and has launched high intensity aluminum alloy pipe, stainless-steel pipe, copper-aluminum composite pipe, aluminum pipe with internal thread, high-frequency welding of aluminum alloy collector pipe and pipe fittings, satisfying the demands of customers across the world with more diversified and better products.  
Our Customers
With the sustained innovation in design, JIEU strives to improve the reliability and durability of the products constantly. With the complete innovation, strict working condition design and rigorous quality control, JIEU ensures the production of high-quality products, providing powerful technical support for every project while minimizing your cost. JIEU will offer you with the perfect total solution for the fluid transportation so as to realize the optimal return of investment and safeguard the efficient productivity of customers.
Exhibition
Certifications
After Sales Service
Ten-year quality guarantee
Our company will replace or repair the product free of charge for the quality problem within 10 years from the installation and acceptance of UPIPE series product.
The exclusion clause shall not cover the problem or damage caused by the following reasons, which will be included but not limited to the following:
1. The product or component has been out of the warranty period, except for the product with extended quality assurance service.
2. The product has not been installed according to our stipulation or exceeded the applicable scope stipulated by our company. The product fails to be operated according to our company's manual and requirements of pertinent installation and maintenance document or it has been applied in a working environment that is against our stipulation. The damage caused by improper installation, storage or operation (for example, the ambient temperature is too high, too low or in a corrosive environment or hit by external force and so on.)
3. The breakdown or damage caused by unauthorized installation, repair, modification or dismounting performed by our company's after-sales personnel or the designated service agent, except for the third-party after-sales service agency entrusted by the company.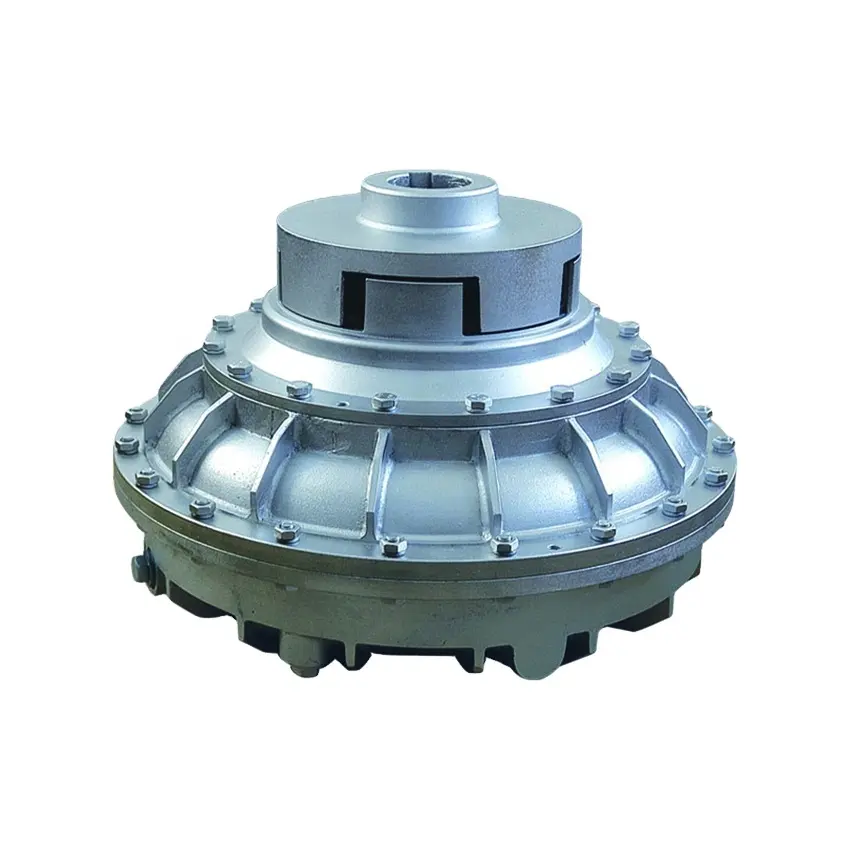 Impact of Fluid Coupling on the Overall Reliability of a Power Transmission System
A fluid coupling can significantly contribute to the overall reliability of a power transmission system in various ways:
Smooth Power Transmission: Fluid couplings facilitate smooth power transmission between the driving and driven components, minimizing shocks and vibrations during startup and operation. This reduces the risk of sudden failures or damages to connected equipment.
Overload Protection: Fluid couplings offer inherent overload protection by allowing controlled slip during sudden load changes or overloads. This protects the system from excessive stresses and prevents damage to the motor and driven machinery.
Reduced Mechanical Wear: The smooth operation of fluid couplings reduces mechanical wear on connected components, such as gearboxes, belts, and chains. This results in longer service life and decreased maintenance requirements.
Increased Equipment Life: By reducing stress and wear on the entire power transmission system, fluid couplings can extend the service life of motors, gearboxes, and other components. This enhances the overall reliability of the system over an extended period.
Enhanced System Safety: The ability of fluid couplings to protect against shock loads and overloads enhances the safety of personnel working with or near the machinery. It prevents sudden and unpredictable movements, reducing the risk of accidents and injuries.
Stable Performance: Fluid couplings maintain a constant speed ratio between the driving and driven shafts, ensuring stable and predictable performance of the power transmission system. This predictability aids in maintaining process stability and efficiency.
Incorporating a properly sized and selected fluid coupling into a power transmission system can improve its reliability, reduce downtime, and prevent costly breakdowns. Regular maintenance and monitoring of the fluid coupling also play a crucial role in ensuring long-term reliability and trouble-free operation.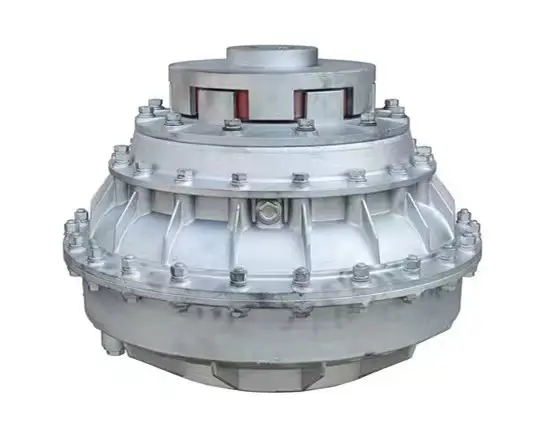 Real-World Case Studies: Improved Performance with Fluid Couplings
Fluid couplings have been widely adopted in various industries, and numerous real-world case studies demonstrate their positive impact on performance and efficiency. Here are a few examples:
Case Study 1: Mining Conveyor System
In a large mining operation, a conveyor system used to transport heavy loads of ore experienced frequent starts and stops due to fluctuating material supply. The abrupt starting and stopping led to significant wear and tear on the conveyor components, causing frequent breakdowns and maintenance downtime.
After installing fluid couplings at critical points in the conveyor system, the soft start and stop capability of the fluid couplings significantly reduced the mechanical stress during operation. This led to a smoother material flow, reduced conveyor wear, and extended equipment life. Additionally, the fluid couplings' overload protection feature prevented damage to the conveyor during peak loads, ensuring uninterrupted production.
Case Study 2: Marine Propulsion System
In a marine vessel equipped with traditional direct drive systems, the crew faced challenges in maneuvering the ship efficiently. The fixed propeller arrangement made it challenging to control the vessel's speed and direction accurately, leading to increased fuel consumption and decreased maneuverability.
By retrofitting the vessel's propulsion system with fluid couplings, the ship's performance improved significantly. The fluid couplings allowed for flexible and smooth speed control, enabling precise maneuvering and reduced fuel consumption. The ability to adjust the load on the propeller enhanced the vessel's overall efficiency, resulting in reduced operating costs and improved environmental sustainability.
Case Study 3: Industrial Pumping Station
In an industrial pumping station, the constant starting and stopping of the pumps caused water hammer and pressure surges within the pipeline network. The sudden hydraulic shocks led to pipe bursts, valve failures, and increased energy consumption.
After implementing fluid couplings in the pump drive systems, the pumps could be softly started and stopped. The fluid couplings' torque control capabilities ensured a gradual increase in pump speed, eliminating water hammer and pressure surges. As a result, the pumping station's reliability improved, maintenance costs decreased, and the energy consumption reduced due to smoother pump operations.
These case studies demonstrate the positive effects of using fluid couplings in various applications. They highlight how fluid couplings contribute to improved performance, reduced mechanical stress, enhanced control, and cost savings in industrial machinery and systems.
"`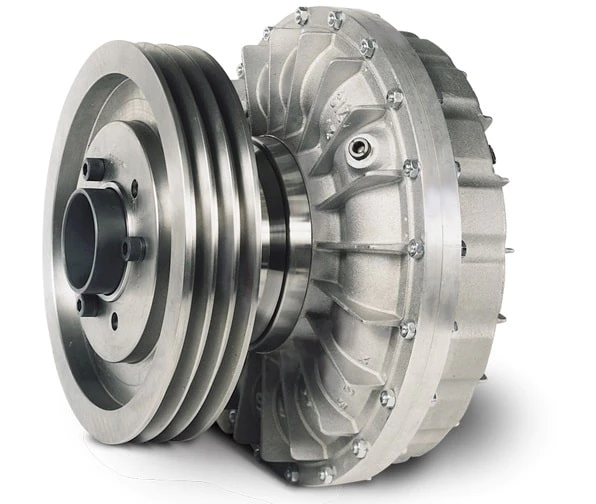 Applications of Fluid Couplings in Industrial Machinery
Fluid couplings are widely used in various industrial machinery and equipment due to their unique characteristics and benefits. Some common applications include:
Conveyors: Fluid couplings are used in conveyor systems to provide smooth start-ups and overload protection. They help in preventing damage to the conveyor belts and equipment during sudden starts and stops.
Pumps: Fluid couplings are employed in pumps to control the acceleration and deceleration of the pump impeller. This ensures a gradual and controlled flow of fluids, reducing water hammer and pressure surges.
Fans: Industrial fans often use fluid couplings to regulate fan speed and avoid abrupt changes in airflow, which can cause mechanical stress and system instability.
Mining Equipment: Fluid couplings are used in mining machinery, such as crushers and conveyors, to protect the drivetrain from shock loads and to enhance equipment reliability.
Marine Propulsion Systems: In marine applications, fluid couplings are used in propulsion systems to provide smooth engagement of the propeller, protecting the engine and transmission.
Power Plants: Fluid couplings are utilized in power plants for boiler feed pumps, induced draft fans, and other equipment to achieve smooth operation and prevent sudden stress on mechanical components.
Steel Industry: In steel mills, fluid couplings are employed in various equipment, including rolling mills and continuous casting machines, to protect the machinery and enhance productivity.
Automotive: Fluid couplings are used in automatic transmissions to smoothly transmit power from the engine to the wheels, allowing smooth gear changes and preventing driveline shock.
Wood Processing: In wood processing equipment, such as chippers and saws, fluid couplings are used to protect the equipment from shock loads and to achieve efficient power transmission.
Overall, fluid couplings play a crucial role in a wide range of industrial machinery applications, providing enhanced protection, smoother operation, and increased equipment longevity.



editor by CX 2023-10-11