Product Description
Product Description
A fluid coupling consists of 2 parts: the turbine and the pump. There are also blades inside, which are placed at an angle. The pump is mounted on the drive shaft end, while the turbine is on the driven shaft. When fluid enters the pump, the drive shaft rotates under the action of centrifugal force. When you add a reactor, it becomes a torque converter. Its main uses are industrial and marine applications.
Product Parameters
Fluid Coupling Specifications
Selection power table (KW)
Technical Data Sheet of Constant Filling Fluid Couplings YOX-Series
| | | | | | | | |
| --- | --- | --- | --- | --- | --- | --- | --- |
| Item no. | 600 (r/min) | 750 (r/min) | 1000 (r/min) | 1500 (r/min) | 3000 (r/min) | Lquid(L) | Weight(KG) |
| YOX-190 |   |   |   | 0.6-1.1 | 4.5-9.0 | 0.4-0.8 | 8.0 |
| YOX-200 |   |   |   | 0.75-1.5 | 5.5-11 | 0.5-1.0 | 9.5 |
| YOX-220 |   |   | 0.4-0.8 | 1.1-2.2 | 10-18.5 | 0.8-1.6 | 14 |
| YOX-250 |   |   | 0.7-1.5 | 2.5-5.0 | 15-30 | 1.1-2.2 | 15 |
| YOX-280 |   |   | 1.5-3.0 | 4.0-7.5 | 37-60 | 1.5-3.0 | 18 |
| YOX-320 |   | 1.1-2.2 | 2.7-5.0 | 7.5-15 | 45-0 | 2.5-5.0 | 28 |
| YOX-340 |   | 1.6-3.0 | 3.0-7.0 | 11-22 | 45-80 | 3.0-6.0 | 30 |
| YOX-360 |   | 2.0-3.8 | 4.5-9.0 | 15-30 | 50-100 | 3.5-7.0 | 46 |
| YOX-400 |   | 3.0-6.0 | 7.5-15 | 22-45 | 80-145 | 4.6-9.0 | 65 |
| YOX-420 |   | 3.5-7 | 11-18.5 | 37-60 |   | 6.5-12 | 66 |
| YOX-450 |   | 6.1-11 | 14-28 | 40-75 |   | 6.5-13 | 70 |
| YOX-500 |   | 10-19 | 26-50 | 75-132 |   | 10-19 | 133 |
| YOX-560 |   | 19-30 | 45-90 | 132-250 |   | 14-27 | 158 |
| YOX-600 | 12-24 | 25-50 | 60-120 | 200-375 |   | 24-40 | 170 |
| YOX-650 | 23-45 | 40-80 | 90-185 | 280-500 |   | 25-46 | 210 |
| YOX-710 | 30-60 | 60-115 | 150-280 |   |   | 37-60 | 310 |
| YOX-750 | 40-80 | 80-160 | 200-360 |   |   | 40-80 | 348 |
| YOX-800 | 45-90 | 110-220 | 280-500 |   |   | 50-95 | 420 |
| YOX-1000 | 140-280 | 270-550 |   |   |   | 70-140 | 510 |
Related products
Company Profile
Our Equipments
Main production equipment:
Large lathe, surface grinder, milling machine, gear shaper, spline milling machine, horizontal broaching machine, gear hobbing machine, shaper, slotting machine, bench drilling machine, radial drilling machine, boring machine, band sawing machine, horizontal lathe, end milling machine, crankshaft grinder, CNC milling machine, casting equipment, etc.
Inspection equipment:
Dynamic balance tester, high-speed intelligent carbon and sulfur analyzer, Blochon optical hardness tester, Leeb hardness tester, magnetic yoke flaw detector, special detection, modular fixture (self-made), etc.
Machining equipments
Heat equipment
Our Factory
Application – Photos from our partner customers
Company Profile
Our leading products are mechanical transmission basic parts – couplings, mainly including universal couplings, drum gear couplings, elastic couplings and other 3 categories of more than 30 series of varieties. It is widely used in metallurgical steel rolling, wind power, hydropower, mining, engineering machinery, petrochemical, lifting, paper making, rubber, rail transit, shipbuilding and marine engineering and other industries.
Our factory takes the basic parts of national standards as the benchmark, has more than 40 years of coupling production experience, takes "scientific management, pioneering and innovation, ensuring quality and customer satisfaction" as the quality policy, and aims to continuously provide users with satisfactory products and services. The production is guided by reasonable process, and the ISO9001:2015 quality management system standard is strictly implemented. We adhere to the principle of continuous improvement and innovation of coupling products. In recent years, it has successfully developed 10 national patent products such as SWF cross shaft universal coupling, among which the double cross shaft universal joint has won the national invention patent, SWF cross shaft universal coupling has won the new product award of China's general mechanical parts coupling industry and the ZHangZhoug Province new product science and technology project.
Our factory has strong technical force, excellent process equipment, complete professional production equipment, perfect detection means, excellent after-sales service, various products and complete specifications. At the same time, we can provide the design and manufacturing of special non-standard products according to the needs of users. Our products sell well at home and abroad, and are trusted by the majority of users. We sincerely welcome friends from all walks of life at home and abroad to visit and negotiate for common development.p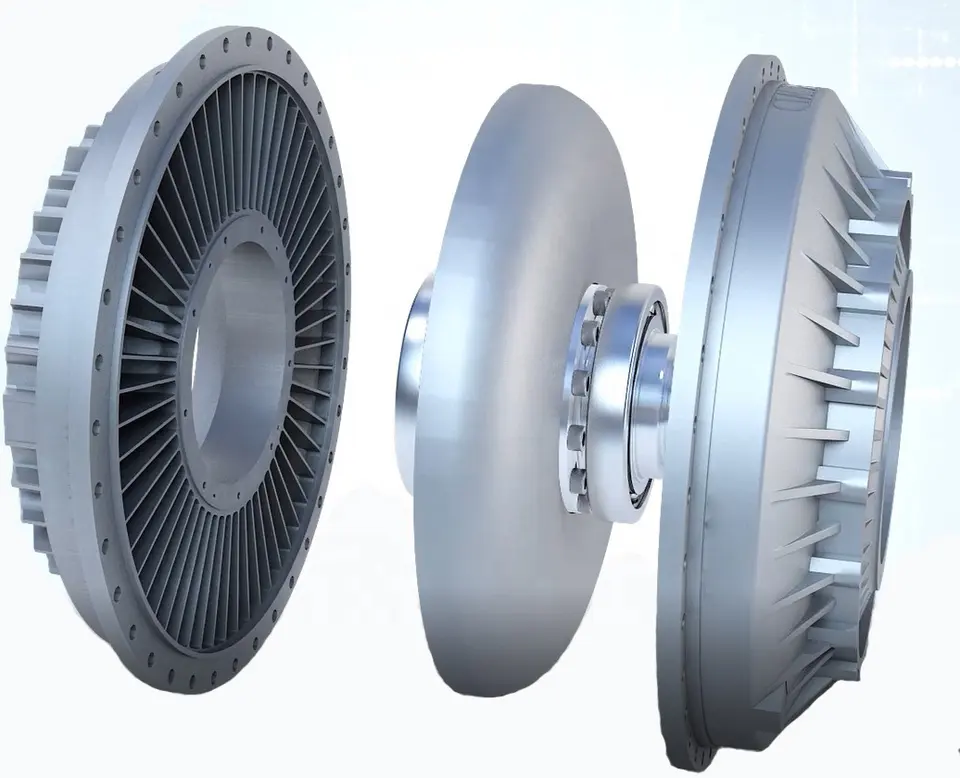 Fluid Couplings in Marine Propulsion Systems
Yes, fluid couplings can be and are commonly used in marine propulsion systems. They offer several advantages that make them well-suited for such applications:
Smooth Power Transmission: Fluid couplings provide smooth power transmission, which is beneficial for marine propulsion where abrupt changes in power delivery can be detrimental to the vessel's stability and performance.
Torque Limiting: In marine applications, fluid couplings can act as torque limiters, protecting the propulsion system and engine from sudden torque surges and overloads, which can occur during maneuvers or when encountering resistance in water.
Impact Damping: The hydrodynamic principle of fluid couplings helps dampen impacts and shocks in the propulsion system, reducing wear and tear on the components and extending their lifespan.
Load Sharing: In multi-engine marine setups, fluid couplings facilitate load sharing between engines, ensuring each engine contributes its share of power to achieve optimal propulsion efficiency.
Start-up Performance: Fluid couplings enable controlled and gradual acceleration during start-up, which is crucial for large vessels and applications where sudden torque spikes could damage the drivetrain or disturb the vessel's balance.
Overload Protection: The fluid coupling's ability to slip at high loads provides inherent overload protection to the marine propulsion system, safeguarding it against potential damage.
Fluid couplings used in marine applications are specially designed to withstand the harsh conditions of the marine environment, including exposure to saltwater, humidity, and vibration. They are available in various sizes and configurations to accommodate different marine vessel types and power requirements.
Overall, fluid couplings offer reliable and efficient power transmission solutions for marine propulsion systems, contributing to the safe and smooth operation of the vessel.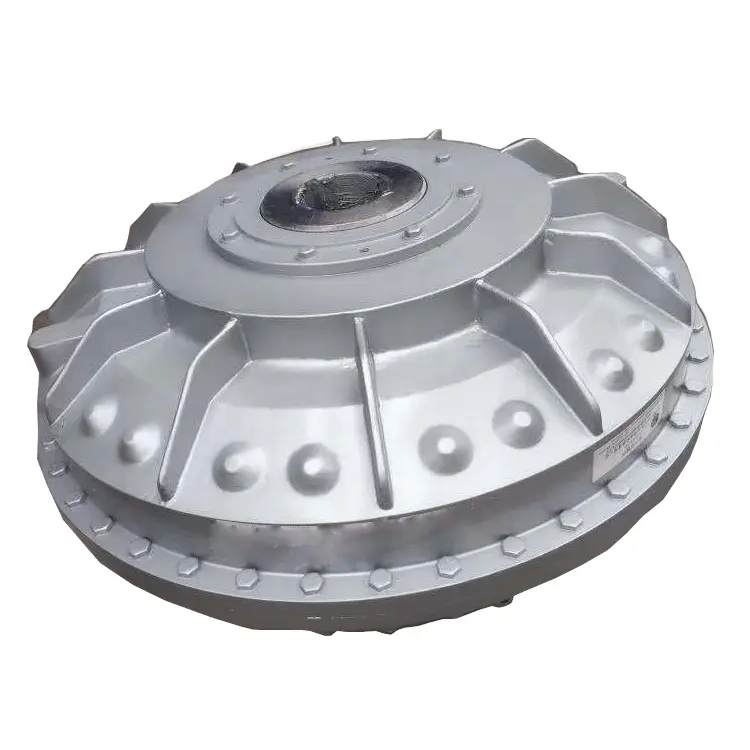 Contribution of Fluid Coupling to the Overall Efficiency of a Mechanical System
A fluid coupling plays a crucial role in improving the overall efficiency of a mechanical system, especially in applications where smooth power transmission, soft-starting, and torque control are essential. Here's how a fluid coupling contributes to system efficiency:
1. Smooth Power Transmission:
Fluid couplings provide a smooth and gradual transfer of power from the driving to the driven machinery. The absence of direct mechanical contact between the input and output shafts reduces shock loads and vibrations, leading to less wear and tear on the connected equipment. This smooth power transmission results in increased system efficiency and reduced downtime.
2. Soft-Start Capability:
Fluid couplings offer soft-starting functionality, which is particularly beneficial for high-inertia or heavy-load applications. During startup, the fluid coupling allows the input shaft to gradually accelerate the output shaft, preventing sudden jerks or torque spikes. Soft-starting not only protects the mechanical components but also reduces energy consumption during the starting phase, contributing to overall efficiency.
3. Torque Control:
Fluid couplings enable precise control over the torque transmitted between the driving and driven machinery. By adjusting the fill level or using variable speed couplings, the torque output can be fine-tuned to match the requirements of the application. This feature ensures optimal performance and energy efficiency, especially in systems where torque demand varies during operation.
4. Overload Protection:
In case of sudden overloads or jamming of the driven machinery, the fluid coupling acts as a torque limiter. It will slip and absorb excess torque, protecting the mechanical system from damage. This overload protection not only safeguards the equipment but also contributes to the longevity and efficiency of the entire system.
5. Heat Dissipation:
Fluid couplings can absorb and dissipate heat generated during continuous operations. This heat dissipation capability prevents the system from overheating, ensuring consistent performance and avoiding thermal damage to the machinery. By maintaining proper operating temperatures, the fluid coupling aids in improving overall efficiency.
6. Energy Savings:
With its ability to reduce shock loads and provide smooth acceleration, a fluid coupling can help save energy during starting and stopping cycles. The elimination of mechanical shocks and vibrations reduces energy losses, resulting in higher overall energy efficiency.
In summary, a fluid coupling enhances the overall efficiency of a mechanical system by providing smooth power transmission, soft-start capability, precise torque control, overload protection, heat dissipation, and energy savings. Its contributions to reduced wear and tear, energy-efficient operations, and enhanced equipment lifespan make it a valuable component in various industrial applications.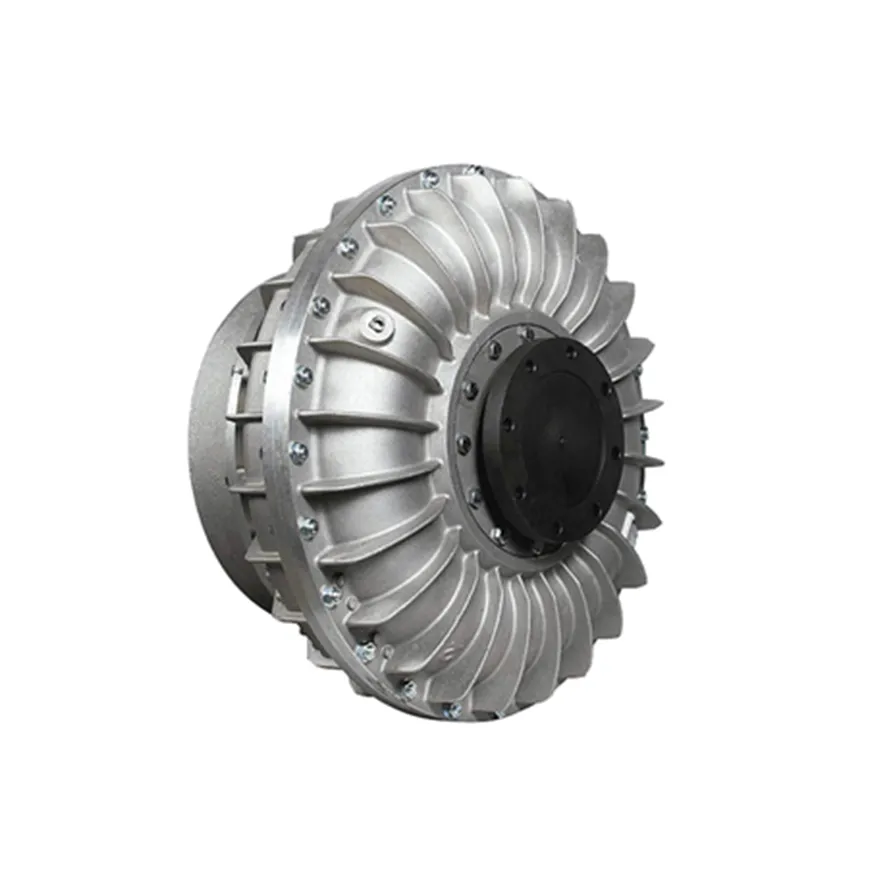 Can Fluid Couplings be Retrofitted into Existing Machinery?
Yes, fluid couplings can be retrofitted into existing machinery in many cases. Retrofitting is a process of adding new components or technologies to existing equipment to improve its performance or functionality. Fluid couplings are versatile and can often be integrated into various industrial machines and power transmission systems.
The process of retrofitting a fluid coupling involves several steps:
Evaluation: Before retrofitting, a thorough evaluation of the existing machinery is necessary. Engineers need to assess the machine's design, power requirements, and other relevant factors to determine the suitability of a fluid coupling.
Compatibility: Fluid couplings should be compatible with the existing machine's shaft, motor, and driven equipment. If necessary, modifications may be required to ensure a proper fit.
Installation: The installation process involves mounting the fluid coupling onto the machine's shaft and connecting it to the motor and driven equipment.
Alignment: Precise alignment of the fluid coupling is crucial for optimal performance and to avoid issues such as vibration and wear.
Testing: After installation, the retrofitted system undergoes testing to ensure that it functions as intended and meets the desired performance goals.
Retrofitting fluid couplings can offer various benefits, including:
Improved Energy Efficiency: Fluid couplings can enhance energy efficiency by reducing power losses and improving the overall power transmission system's efficiency.
Enhanced Protection: Fluid couplings provide protection against shocks and overloads, safeguarding the machinery and its components from damage.
Reduced Maintenance: The smooth start and reduced stress on the machine during operation can lead to lower maintenance requirements and longer equipment lifespan.
Soft Start: Fluid couplings offer a soft start, which reduces the mechanical stress on the machine during startup, extending its life and minimizing downtime.
However, it is essential to involve qualified engineers and technicians for the retrofitting process to ensure proper installation, alignment, and performance of the fluid coupling in the existing machinery.



editor by CX 2023-08-21