Product Description
Multidirectional forging hydrodynamic fluid coupling with precision CNC machining
   Muyang machinery is a manufacturer with the capability of comprehensive services of casting, forging and machining, committed to the production of customized parts. Since established in 2002 (former Miaosen Machinery Co., Ltd), we've been supplying to the global market for over 15 years, served industries include automotive, railway, gas and oil, medical machinery, construction machinery, gym equipment, etc.
Process

Hot forging, cold forging, die forging with secondary service

Material

Carbon steel: A36,1045,1035 etc., Alloy steel: 40Cr, 20CrMnTi, 20CrNiMo,42CrMo4 etc., Stainless steel, SS304,SS316 etc.

Standard

ISO, DIN, ASTM, BS, etc.

Weight

0.1kg – 20kg (in accordance with product structure)

Applicable Machining Process

CNC Machining/ Lathing/ Milling/ Turning/ Boring/ Drilling/ Tapping/ Broaching/Reaming etc.

Machining Tolerance

±0.005mm

Machined Surface Quality

Ra0.8-Ra3.2 according to customer requirement

Applicable Heat Treatment

Normalization, Quenching, and tempering, Case

Hardening, Nitriding, Carbon Nitriding, Induction Quenching

Applicable Finish Surface Treatment

Shot/sand blast, polishing, Surface passivation, Primer Painting, Powder coating, ED- Coating, Chromate Plating, zinc-plate, Dacromat coating, Finish Painting

Testing equipment

Supersonic inspection machine, Supersonic flaw detecting machine, Physics and chemical analysis etc.

Packing

Wooden cases or according to customers' requirement

MOQ of mass production

1000-5000pcs ( in accordance with the actual condition)

We promise our clients a careful, safe, and tight package for exporting!
Standard packing: pearl cotton/bubble bag + carton box + pallet/wooden box
Special packing: custom packaging + wooden box
FAQ:
1. Are you a manufacturer or trading company?
We're a manufacturer with self-export rights. 
2. What's your main business?
Our main business is custom metal parts processed by CNC machining, casting, forging, etc., serving industries including railway, automobile, construction machinery, gym equipment, water gas, and oil.
3. Directly get to CONTACT or send your product drawing/inquiries to email, we will reply within 1 hour.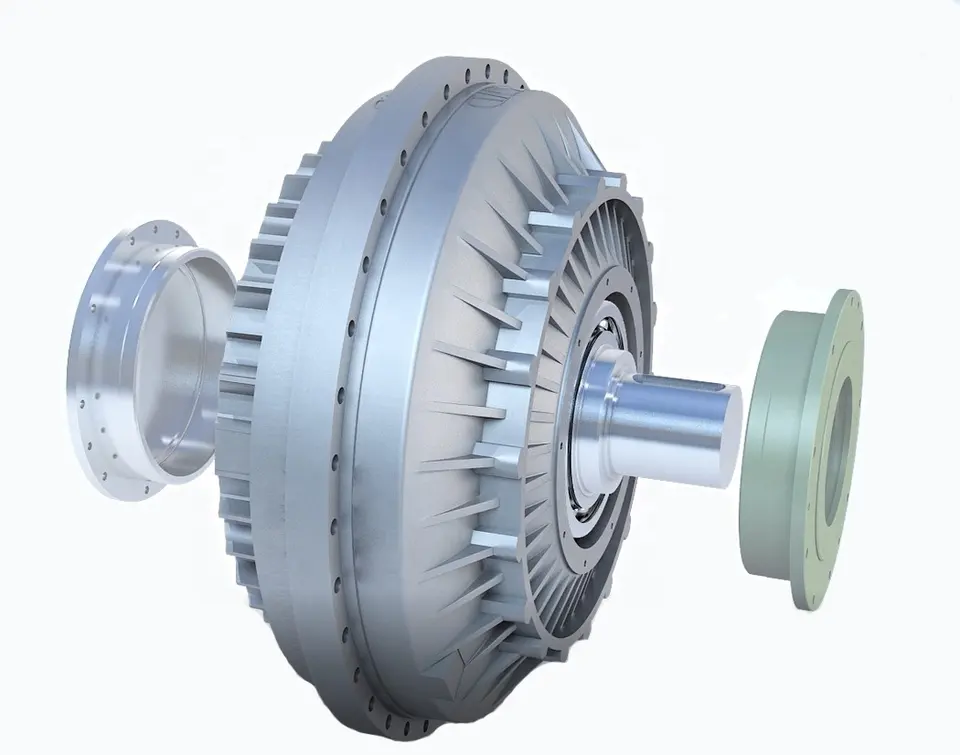 Noise and Vibration Issues with Fluid Couplings
Fluid couplings are generally designed to operate smoothly and quietly, but certain factors may lead to noise or vibration issues in some cases:
Imbalanced Components: If the components of the fluid coupling, such as the impeller and runner, are not balanced properly, it can result in vibrations during operation. Regular maintenance and balancing can help mitigate this issue.
High Operating Speeds: At high speeds, fluid couplings can generate more noise and vibration due to increased fluid turbulence. Using damping techniques or selecting appropriate coupling types can help reduce these effects.
Fluid Level: Incorrect fluid levels in the coupling can lead to inadequate lubrication and cause noise during operation. Regularly checking and maintaining the fluid level can prevent such problems.
Misalignment: Misalignment between the driving and driven shafts can result in increased noise and vibration. Proper alignment during installation is essential to avoid this issue.
Fluid Characteristics: The choice of fluid can also impact noise and vibration levels. Using fluids with appropriate viscosity and lubricating properties can help achieve smoother and quieter operation.
Aging or Contaminated Fluids: Over time, the fluid in the coupling may degrade or become contaminated, leading to increased friction and noise. Regular fluid replacement and maintenance can prevent this problem.
Addressing noise and vibration issues with fluid couplings involves proper installation, regular maintenance, and using high-quality components and fluids. Consulting with manufacturers or experts can help identify and resolve any specific noise or vibration concerns in the power transmission system.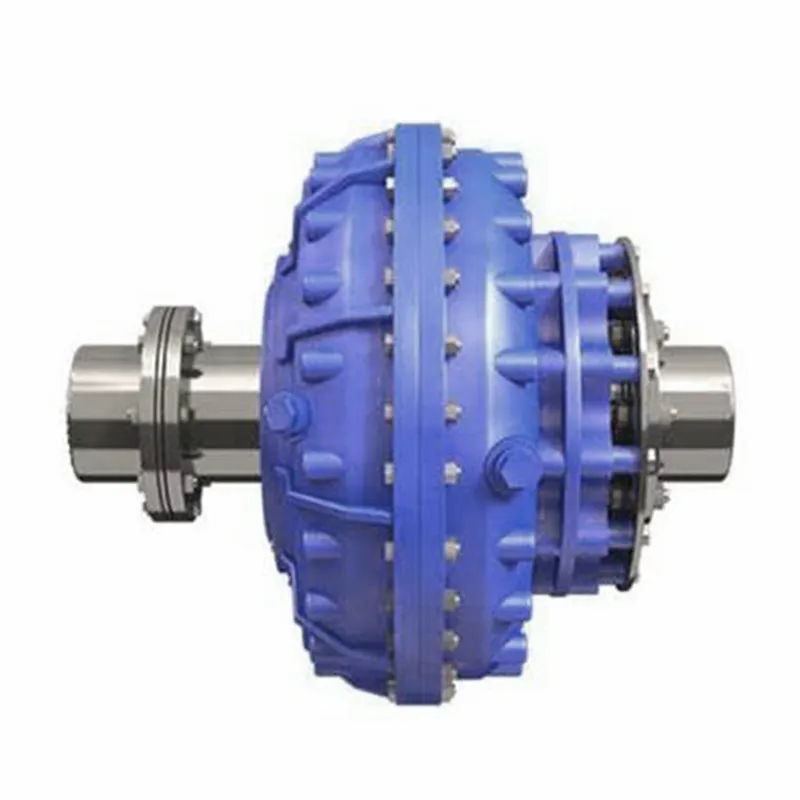 Fluid Coupling's Handling of Load Changes during Operation
Fluid couplings are designed to efficiently handle changes in load conditions during operation, providing smooth and controlled power transmission. Here's how fluid couplings accomplish this:
1. Torque Sensing: Fluid couplings are torque-sensitive devices. As the load on the driving side varies, the torque transmitted through the fluid coupling adjusts accordingly. When the load increases, the fluid coupling allows for some slip between the input and output sides, absorbing the excess torque. Conversely, when the load decreases, the fluid coupling reduces slip and transmits more torque, accommodating the new load conditions.
2. Load Distribution: In multi-drive systems, fluid couplings help to distribute the load evenly among connected equipment. When one machine experiences a higher load, the fluid coupling redistributes torque to prevent overloading of a specific component, ensuring a balanced power distribution.
3. Smooth Power Transmission: Fluid couplings offer a smooth and gradual transmission of power, even during load changes. Unlike mechanical clutches or direct couplings, fluid couplings provide a dampening effect, reducing shock loads and torsional vibrations when the load fluctuates. This minimizes stress on the connected machinery and enhances overall system reliability.
4. Soft Start and Stop: One of the significant advantages of fluid couplings is their ability to facilitate soft start and stop operations. During startup, the fluid coupling allows for controlled slip, gradually increasing the speed of the driven equipment. Similarly, during shutdown, the fluid coupling smoothly decelerates the connected machinery, preventing sudden stops that could cause damage or excessive wear.
5. Overload Protection: In situations where the load surpasses the rated capacity, the fluid coupling acts as an overload protector. By slipping and absorbing excess torque, it prevents damage to the connected equipment and the fluid coupling itself. This overload protection contributes to the safety and longevity of the entire system.
6. Automatic Adjustment: Fluid couplings automatically adjust to variations in load conditions without the need for manual intervention. This feature makes them suitable for applications with changing load demands, such as conveyors, crushers, pumps, and fans.
Overall, the ability of fluid couplings to handle changes in load conditions ensures stable and efficient power transmission while protecting the machinery from abrupt stress and wear. This makes fluid couplings an excellent choice for various industrial applications that require reliable and flexible power transfer.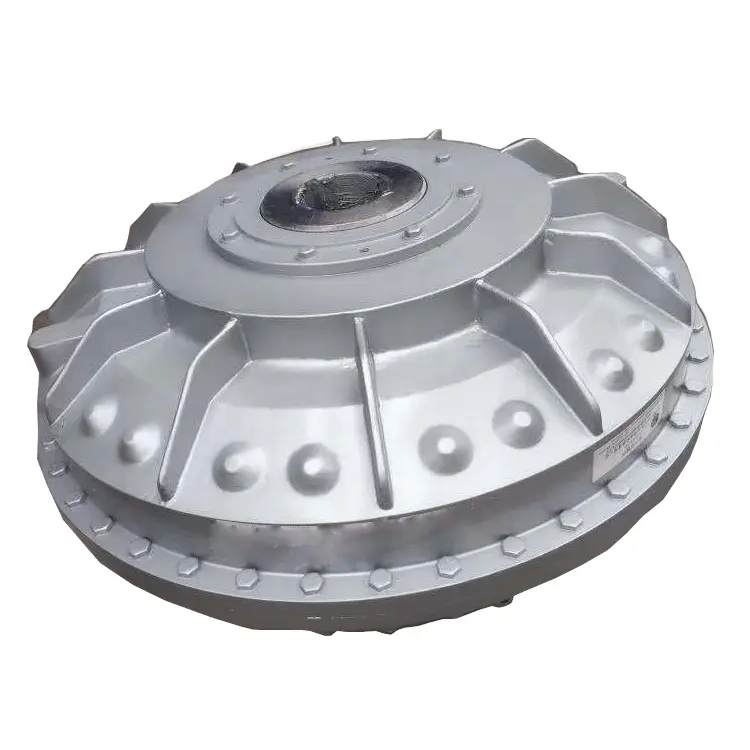 Selecting the Right Size of Fluid Coupling for Your Application
To ensure optimal performance and efficiency, it's essential to choose the right size of fluid coupling for a specific application. Here are the key steps in the selection process:
Identify the Application Requirements: Understand the torque and power requirements of your application. Determine the maximum torque and power that the fluid coupling needs to transmit to meet the operational demands of the machinery or equipment.
Check the Speed Range: Consider the speed range of your application. Ensure that the fluid coupling can operate effectively within the desired speed range, providing adequate torque transfer across the entire speed spectrum.
Consider the Fluid Coupling Type: Choose the appropriate type of fluid coupling based on the specific needs of your application. Hydrodynamic fluid couplings are suitable for applications requiring smooth and gradual torque transmission, while constant-fill fluid couplings are more suitable for applications where some slip is acceptable.
Calculate the Service Factor: Determine the service factor, which accounts for any additional loads or impacts the fluid coupling may experience during operation. Multiply the maximum torque requirement by the service factor to obtain the design torque.
Refer to Manufacturer Data: Consult the manufacturer's data sheets and specifications for various fluid coupling models. Compare the design torque with the torque capacity of different fluid coupling sizes to find the most suitable match for your application.
Consider Safety Margins: It's advisable to apply safety margins to ensure reliable operation. Select a fluid coupling with a torque capacity higher than the calculated design torque to account for potential variations in load or operating conditions.
Verify Space Constraints: Ensure that the selected fluid coupling fits within the available space in your machinery or equipment, considering any installation restrictions or dimensional limitations.
By following these steps and carefully evaluating the requirements of your specific application, you can select the right size of fluid coupling that will deliver optimal performance, efficiency, and reliability.



editor by CX 2023-08-08