Product Description
Type A  brass male adapter Female thread camlock coupling
Brass cam and groove coupler &adapter made according to standard A-A-59326(original standard Mil-C-27487), size from 1/2″ to 6″.Camlock coupling provides a simple and reliable way to connect and disconnect hoses without any tools during installation. Brass camlock connects PVC hose, tubing, etc., It's suitable for using in storage tanks, marine refueling systems, pumps, fuel tanks and other occasions. Brass camlock is a good choice, it has good corrosion resistance and long service life, convenient operation,which can save time, tools and manpower.
Brass camlock fitting type A dimension:                          
Unit:mm
Product Description:
body materials: Brass
handle: Brass
Gaskets:Buna-N (NBR), EPDM
The thread of camlock fittings are BSP,BSPT,NPT,G (ISO 228.1) and R (DIN2999).
SIZE:1/2″to 6″
pressure :75-250 Psi( depending on size and temperature)
Operating temperature :-40 to 145ºC
Manufacture method:Forging and casting
Cam and groove couplings use and connection mode: Type B camlock can usually be used with type A, type E, type F, type DP (Dust Plug) of the same size. To make a connection, simply slide the camlock adapter into the camlock coupling and with normal hand pressure, press the cam levers down.
Brass camlock fittings operating pressure
 
| | |
| --- | --- |
|                   size |              Working Pressure |
| 1/2″ – 2″ | 250 Psi |
| 2-1/2″ | 150 Psi |
| 3″ | 125 psi |
| 4″ | 100 psi |
| 5″ – 6″ | 75 psi |
Our Advantage
We are experienced as we have been in this industry as a manufacturer for more than 10 years. Both of quality and service are highly guaranteed. Absolutely prompt delivery. We can produce according to specific drawings from customers. Welcome OEM/ODM project. Strict control on quality. High efficient and well trained sale service team.  ISO9001, CE and SGS certified.
FAQ
1.Q: Are you a producer or trading company?
A: We are an experienced manufacturer. We own production line and kinds of machines.  
2. Can you make our specific logo on the part?
Yes please provide me your logo and we will make your logo on the part.
3. Can you manufacture products according to my drawings?
Yes we can manufacturer according to client's drawings if drawings or samples are available. We are experienced enough to make new tools.
4. Q: Can I get some samples?
A: We are honored to offer you our samples. Normally it is for free like 3-5 pcs. It is charged if the samples are more than 5 pcs. Clients bear the freight cost.
5. Q: How many days do you need to finish an order?
A: Normally it takes about 30 days to finish the order. It takes more time around CZPT season, or if the order involves many kinds of different products.  
6. what kind of rubber washer do you apply to camlock couplings?
Normally we use NBR gasket.
company-Union-Metal-Products-HangZhou-Co-Ltd-.html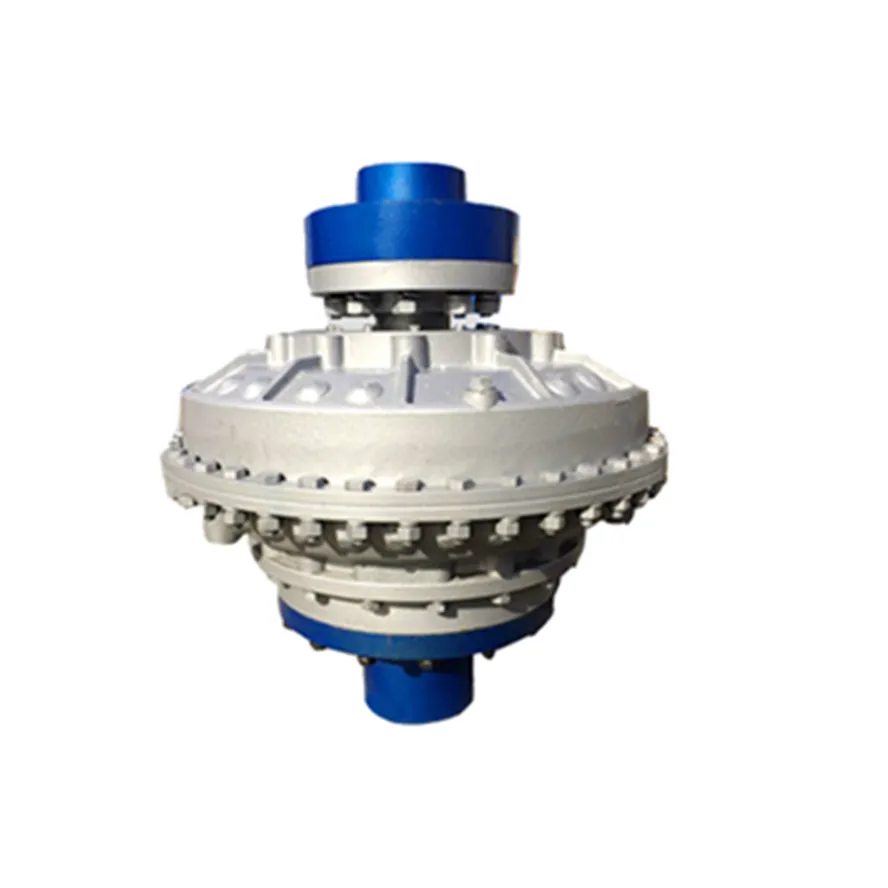 Can you explain the Concept of Slip in a Fluid Coupling?
In a fluid coupling, slip refers to the relative speed difference between the impeller and the runner. When the impeller, which is connected to the driving shaft, rotates, it induces the flow of hydraulic fluid inside the coupling. This fluid flow in turn drives the rotation of the runner, which is connected to the driven shaft.
However, due to the operating principle of fluid couplings, there is always a certain amount of slip between the impeller and the runner. This slip occurs because the fluid coupling needs to allow for a small speed difference in order to transmit torque smoothly.
During startup or under heavy load conditions, the impeller's rotational speed may be slightly higher than the runner's rotational speed. This speed difference causes the hydraulic fluid to circulate between the impeller and the runner, generating hydrodynamic forces that transmit torque from the driving shaft to the driven shaft.
Slip is an inherent and controlled characteristic of fluid couplings, and it is essential for their smooth operation. However, excessive slip can lead to energy losses and reduced efficiency. Therefore, fluid couplings are designed to have an optimal slip value for specific applications, balancing the need for torque transmission and energy efficiency.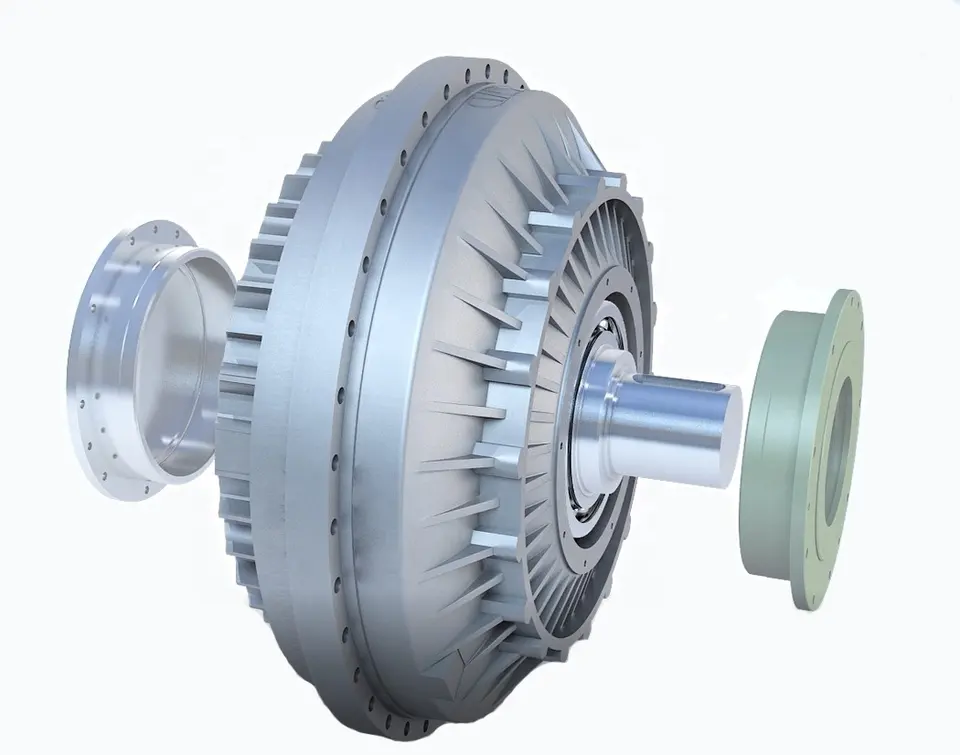 Special Considerations for Using Fluid Couplings in Explosive Environments
Fluid couplings are widely used in various industrial applications, including those in potentially explosive environments. When considering the use of fluid couplings in such settings, several special considerations must be taken into account to ensure safety and compliance with regulations:
Explosion-Proof Design: Fluid couplings used in explosive environments must be designed to prevent the ignition of flammable gases or vapors. They should adhere to explosion-proof standards and be equipped with robust seals and protective enclosures to contain any potential sparks or flames.
Ingress Protection: An appropriate ingress protection (IP) rating is essential to prevent dust, moisture, or other hazardous substances from entering the fluid coupling. A higher IP rating ensures greater protection against potential sources of ignition.
Material Selection: The choice of materials for the fluid coupling is crucial in explosive environments. Non-sparking or anti-static materials should be used to reduce the risk of ignition caused by friction or electrical discharge.
Temperature Limitations: Fluid couplings operating in explosive environments must have temperature ratings that prevent overheating and potential ignition of flammable substances. The fluid coupling should be adequately cooled to maintain safe operating temperatures.
Monitoring and Maintenance: Regular monitoring and maintenance of fluid couplings in explosive environments are essential. Periodic inspections can detect potential issues or wear that could compromise the safety of the coupling. Any maintenance or repair work should be carried out by qualified personnel following safety protocols.
Compliance with Regulations: Depending on the industry and location, there may be specific regulations and safety standards that govern the use of equipment in explosive atmospheres. It is crucial to adhere to these regulations and ensure that the fluid coupling complies with all relevant safety requirements.
Fluid couplings used in explosive environments play a vital role in ensuring the safe and reliable operation of industrial machinery. By providing smooth and controlled power transmission, fluid couplings can help minimize risks and improve the overall safety of the equipment and personnel in these hazardous settings.
Before implementing fluid couplings in explosive environments, it is essential to conduct a thorough risk assessment and consult with experts familiar with the specific safety requirements of the industry. By taking appropriate safety measures and selecting suitable explosion-proof fluid couplings, the risks associated with using power transmission equipment in hazardous areas can be effectively mitigated.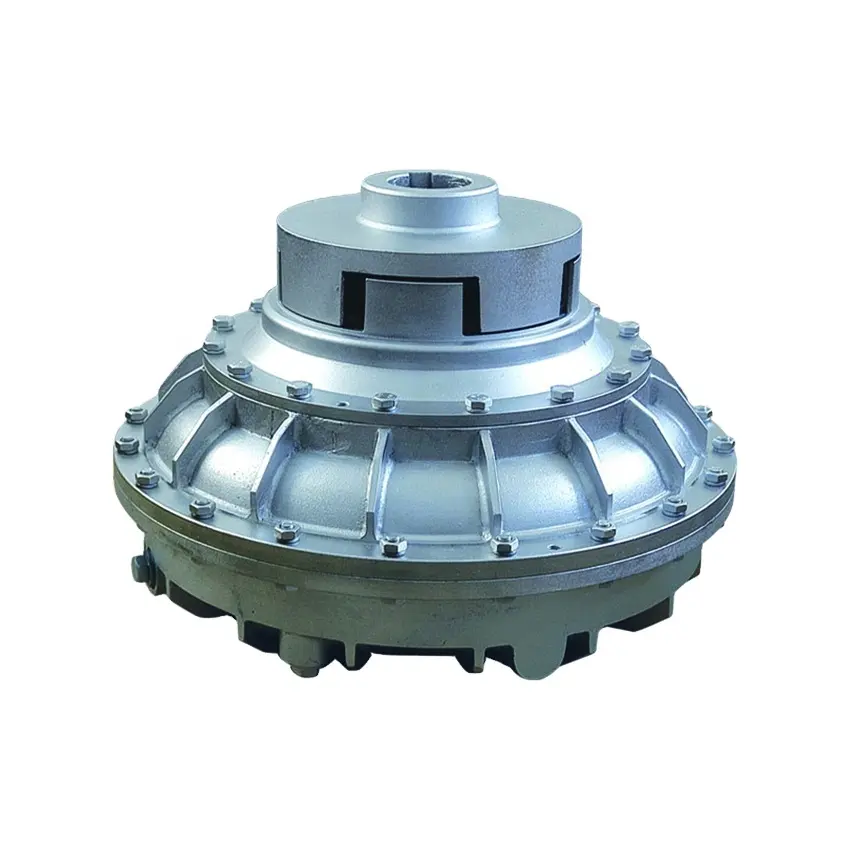 Disadvantages and Limitations of Fluid Couplings
While fluid couplings offer numerous advantages, they also have some disadvantages and limitations that should be considered for specific applications:
Power Loss: Fluid couplings introduce a power loss due to the slip that occurs during power transmission. This power loss can reduce the overall efficiency of the system, especially in applications with high-speed variations.
Torque Multiplication: Unlike torque converters, fluid couplings have limited torque multiplication capabilities. They do not provide as much torque increase at low speeds, which may be necessary for certain heavy-load applications.
Temperature Sensitivity: Fluid couplings are sensitive to temperature changes. In extremely hot or cold conditions, the viscosity of the fluid may vary, affecting the coupling's performance.
Fluid Contamination: Contaminants in the fluid can adversely affect the performance and lifespan of the fluid coupling. Regular maintenance and monitoring of the fluid quality are essential to prevent potential issues.
Speed Limitations: Fluid couplings may have speed limitations in certain applications. High-speed operations can lead to centrifugal forces that may affect the coupling's behavior.
Complexity in Control: In some cases, controlling the output speed of the fluid coupling can be more challenging compared to other types of couplings. This complexity may require additional control mechanisms.
Cost: Fluid couplings can be more expensive than some mechanical couplings, such as belt and chain drives. The initial cost and ongoing maintenance expenses should be considered in the selection process.
Despite these limitations, fluid couplings remain a popular choice in many industrial applications, thanks to their smooth power transmission, overload protection, and torsional vibration damping capabilities. The decision to use a fluid coupling should be based on a thorough understanding of the specific requirements and operating conditions of the machinery or equipment.



editor by CX 2023-08-22