Product Description
Multidirectional forging hydrodynamic fluid coupling with precision CNC machining
   Muyang machinery is a manufacturer with the capability of comprehensive services of casting, forging and machining, committed to the production of customized parts. Since established in 2002 (former Miaosen Machinery Co., Ltd), we've been supplying to the global market for over 15 years, served industries include automotive, railway, gas and oil, medical machinery, construction machinery, gym equipment, etc.
Process

Hot forging, cold forging, die forging with secondary service

Material

Carbon steel: A36,1045,1035 etc., Alloy steel: 40Cr, 20CrMnTi, 20CrNiMo,42CrMo4 etc., Stainless steel, SS304,SS316 etc.

Standard

ISO, DIN, ASTM, BS, etc.

Weight

0.1kg – 20kg (in accordance with product structure)

Applicable Machining Process

CNC Machining/ Lathing/ Milling/ Turning/ Boring/ Drilling/ Tapping/ Broaching/Reaming etc.

Machining Tolerance

±0.005mm

Machined Surface Quality

Ra0.8-Ra3.2 according to customer requirement

Applicable Heat Treatment

Normalization, Quenching, and tempering, Case

Hardening, Nitriding, Carbon Nitriding, Induction Quenching

Applicable Finish Surface Treatment

Shot/sand blast, polishing, Surface passivation, Primer Painting, Powder coating, ED- Coating, Chromate Plating, zinc-plate, Dacromat coating, Finish Painting

Testing equipment

Supersonic inspection machine, Supersonic flaw detecting machine, Physics and chemical analysis etc.

Packing

Wooden cases or according to customers' requirement

MOQ of mass production

1000-5000pcs ( in accordance with the actual condition)

We promise our clients a careful, safe, and tight package for exporting!
Standard packing: pearl cotton/bubble bag + carton box + pallet/wooden box
Special packing: custom packaging + wooden box
FAQ:
1. Are you a manufacturer or trading company?
We're a manufacturer with self-export rights. 
2. What's your main business?
Our main business is custom metal parts processed by CNC machining, casting, forging, etc., serving industries including railway, automobile, construction machinery, gym equipment, water gas, and oil.
3. Directly get to CONTACT or send your product drawing/inquiries to email, we will reply within 1 hour.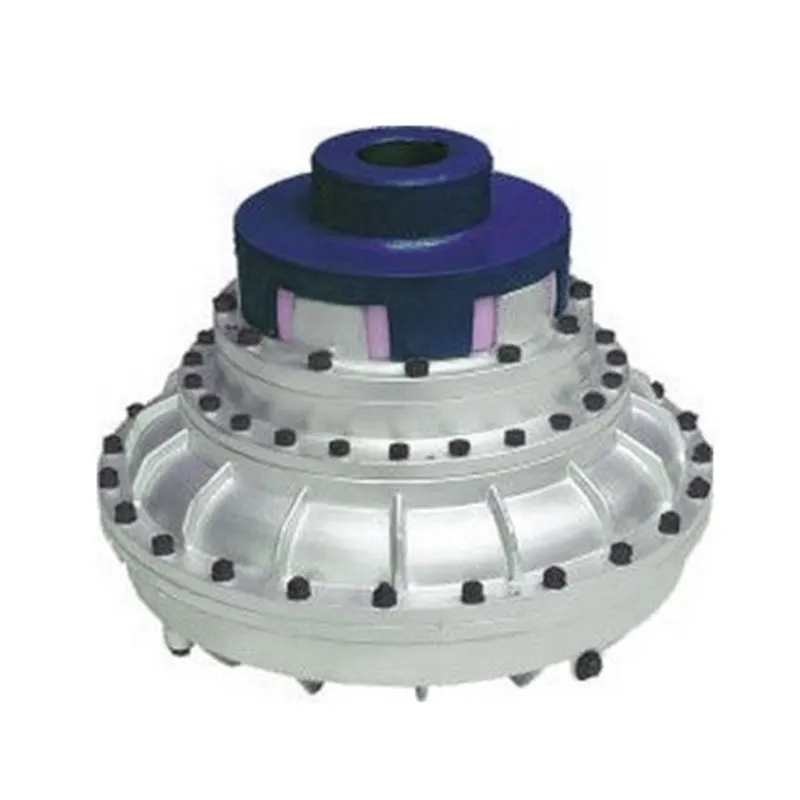 Fluid Coupling and Smooth Power Transmission during Starting and Stopping
A fluid coupling is designed to facilitate smooth power transmission during the starting and stopping phases of machinery and equipment. It achieves this by utilizing the principle of hydrodynamic torque transmission through a fluid medium.
Starting Phase: When power is initially supplied to the input shaft of the fluid coupling, the impeller (also known as the pump) begins to rotate, imparting energy to the fluid inside the coupling. As the fluid gains kinetic energy, it starts moving outward towards the turbine (also called the driven element) due to centrifugal force.
The kinetic energy of the moving fluid causes the turbine to start rotating, transmitting torque to the output shaft. During this starting phase, there is a slight time lag, known as the "slip," between the impeller and the turbine. However, as the fluid coupling reaches its operational speed, the slip reduces, and the turbine matches the speed of the impeller, resulting in smooth power transmission from the input to the output shaft.
The fluid coupling's ability to control the slip ensures a gradual and controlled acceleration of the driven equipment, minimizing stress on the drivetrain components and preventing sudden shock loads.
Stopping Phase: When power to the input shaft is reduced or cut off, the impeller slows down, and the kinetic energy in the fluid decreases. As a result, the fluid moves away from the turbine towards the center of the coupling, reducing the torque transmission between the input and output shafts.
This characteristic of the fluid coupling aids in smoothly decelerating the connected equipment, preventing sudden jolts or jerks during the stopping process. The ability to control the slip during deceleration ensures that the driven machinery comes to a gradual and controlled stop, enhancing safety and protecting the equipment from damage.
The combination of hydrodynamic torque transmission and the ability to control the slip makes fluid couplings ideal for applications where smooth power transmission during starting and stopping is essential. Industries such as mining, construction, metal processing, marine propulsion, and power generation benefit from the reliable and efficient performance of fluid couplings in various machinery and equipment.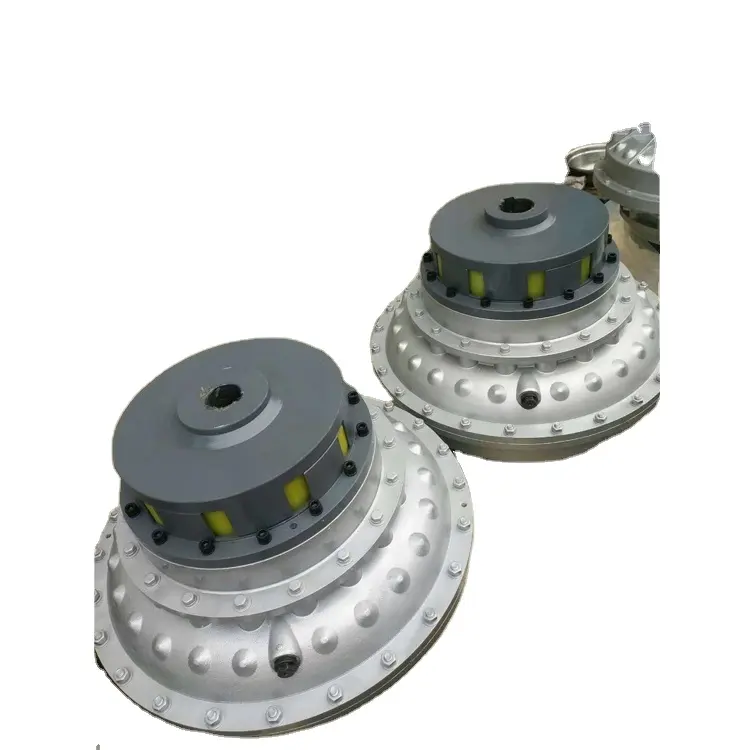 Fluid Couplings in Pumps and Compressors
Yes, fluid couplings can be effectively used in pumps and compressors to optimize their operation and improve overall efficiency. Here's how fluid couplings are beneficial in these applications:
1. Smooth Starting: Fluid couplings provide a soft-start capability, which is particularly advantageous for pumps and compressors. During startup, the fluid coupling allows the pump or compressor to gradually reach the desired operating speed, reducing mechanical stress on the equipment and preventing sudden torque spikes.
2. Overload Protection: Pumps and compressors may experience sudden changes in load due to variations in fluid demand or system pressure. A fluid coupling acts as a torque limiter and protects the connected equipment from damage during such overload conditions. It slips and absorbs excess torque, preventing mechanical failures and downtime.
3. Torque Control: Fluid couplings enable precise control over the torque transmitted to the pump or compressor. This feature allows operators to adjust the output speed and torque to match the specific requirements of the application, ensuring optimal performance and energy efficiency.
4. Vibration Damping: The inherent damping properties of fluid couplings help in reducing vibrations in pump and compressor systems. This not only extends the life of the mechanical components but also enhances the reliability of the entire system.
5. Energy Efficiency: By eliminating the need for direct mechanical connections and providing smooth acceleration, fluid couplings contribute to energy savings in pumps and compressors. The reduction in shock loads and vibrations leads to lower energy consumption and improved overall efficiency.
6. Heat Dissipation: Continuous operations in pumps and compressors can generate heat, potentially affecting the equipment's performance. Fluid couplings have the ability to absorb and dissipate heat, maintaining proper operating temperatures and ensuring consistent performance.
7. System Protection: In addition to overload protection, fluid couplings also protect pumps and compressors from torque fluctuations, which can occur during transient conditions. This protection prevents mechanical damage and enhances the longevity of the equipment.
Overall, fluid couplings offer several advantages in pump and compressor applications, including smooth starting, overload protection, torque control, vibration damping, energy efficiency, heat dissipation, and system protection. These benefits make fluid couplings a valuable component in optimizing the performance and reliability of pumps and compressors in various industrial settings.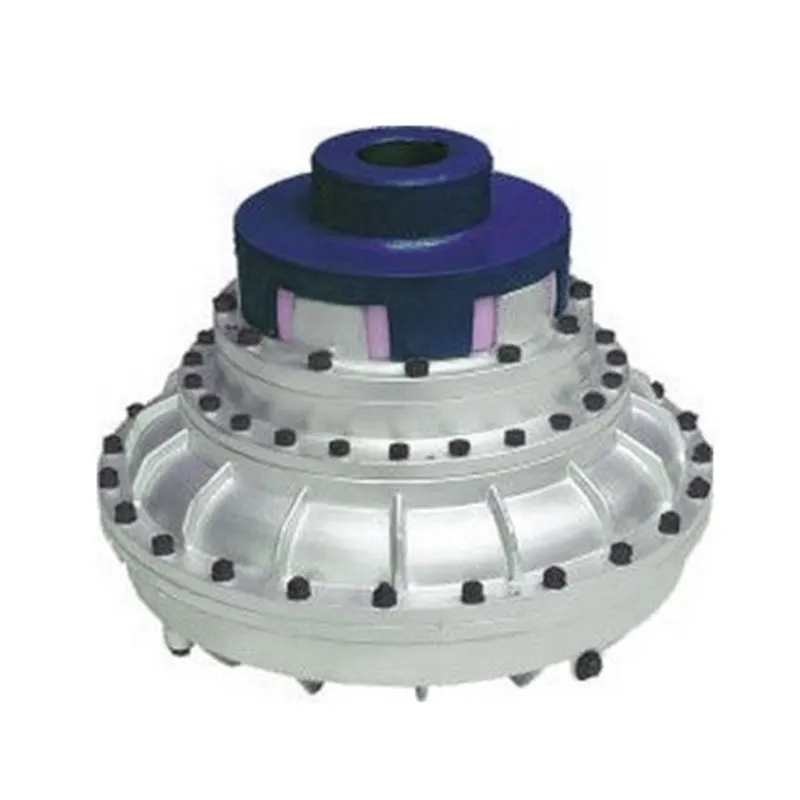 Fluid Couplings and Energy Efficiency in Power Transmission
Fluid couplings play a significant role in improving energy efficiency in power transmission systems. They achieve this by enabling smooth and efficient torque transmission while reducing energy losses during various operating conditions.
One of the key factors contributing to the energy efficiency of fluid couplings is their hydrodynamic principle of operation. When power is transmitted through a fluid coupling, it operates on the principle of hydrodynamic power transmission. The primary component, known as the impeller, rotates and imparts motion to the fluid inside the coupling. This motion creates a hydrodynamic force that transmits the torque to the output side.
During the initial startup or when there is a significant speed difference between the input and output shafts, the fluid coupling allows the input shaft to accelerate gradually. This feature, known as the soft start, reduces the mechanical stress on the connected components and the power source. By avoiding sudden acceleration, fluid couplings minimize the energy spikes that occur during direct starts in systems without couplings.
Moreover, fluid couplings act as a torque limiter when the load exceeds a certain threshold. This characteristic, known as the slip, allows the fluid coupling to disengage slightly when the torque reaches a predetermined level. As a result, it protects the system from overloads and reduces energy wastage during high-stress conditions.
Additionally, fluid couplings help mitigate the impact of shock loads and torsional vibrations, which can reduce wear and tear on mechanical components. By minimizing vibrations and shock loads, fluid couplings contribute to longer equipment life and, consequently, lower maintenance and replacement costs.
However, it's important to note that like any mechanical component, fluid couplings have some energy losses due to viscous drag and heat dissipation. While modern fluid couplings are designed with improved efficiency, these losses need to be considered when assessing the overall energy efficiency of a power transmission system.
In summary, fluid couplings enhance energy efficiency in power transmission by providing soft starts, torque limiting, and damping of vibrations, thus reducing energy wastage and extending the life of the connected equipment.



editor by CX 2023-10-04